See customer feedback from over 100 review sites in one place
Request a demo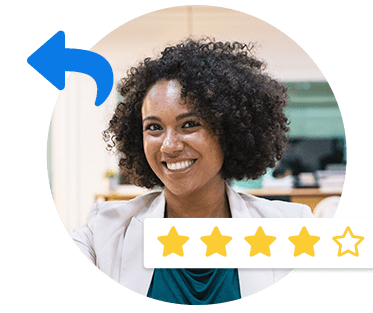 Even for some of the world's most creative marketing minds, fresh content ideas are not easy to come by.
You can have a 5-hour brainstorming session, chug 17 cups of coffee, pore over random blog subscriptions and the Twitter feeds of the darlings of marketing… and still end up staring, for what will feel like forever, at a blank screen with a blinking cursor. Needing inspiration. Or another 5 hours. Or another shot of espresso.
Customer reviews and feedback = inspiration and information
Here's a tip: check your online reviews. Read what customers have written online about your business. Dive into the customer feedback you've gathered.
Whatever it is you're trying to do — be it a 1,500-word, top-of-the-funnel blog post, the landing page for your next lead magnet, an emoji campaign on Facebook and Twitter that targets Millennials, the design and copy for recruitment flyers you're going to be distributing around town — don't discount online reviews and customer feedback as a valuable source of inspiration (and information) for creating marketing content.
We understand any apprehension you might have. Sometimes those reviews on Yelp or Google or TripAdvisor just make you want to scream. And those impossible-to-please online critics who give you one- or two-star ratings don't seem to have anything worthwhile to do except blemish your business reputation.
If anything, online reviews and customer feedback are a source of torment and frustration. Right?
Well, no.
Reviews are awesome. Even the negative ones can be good for business. And there are plenty of ways you can create and supercharge your marketing content with reviews and feedback. Here are some examples:
Discover high-impact keywords and search trends
Some people like to doodle on a whiteboard. Others like to use the Google Keyword Planner.
And why not? Marketing is more data-driven than ever, and discovering the most relevant keywords and search trends for your campaigns is as important as writing sales-clinching copy or having a well-crafted advertising blitz.
But if Google Keyword Planner or some other SEO analytics dashboard hasn't quite given you the extra edge, at least in terms of generating content ideas that will land your brand on Page 1 of search engine results, you may want to check those online reviews.
Here's a great example: clothing retailers used to call hoodies "hooded sweatshirts." But shoppers weren't typing "hooded sweatshirts" whenever they wrote reviews or searched Google and Amazon for clothes; they preferred to use "hoodies."
What did retailers do? They switched to "hoodies" — in product descriptions, in sales copy, in ads, in image attributes, in call-to-action buttons, in the rest of their marketing content. It's a small tweak that set the retailers up for higher search relevance and improved rankings.
By using the right analytical tools to analyze reviews and feedback, you can more eloquently speak the language of your customers and discover high-impact search trends that significantly impact your digital marketing and SEO strategy.
Create winning social media content
To succeed on social media, you must be able to find ways to keep your audience engaged and interested. After all, people don't want to follow companies and brands that share the same blog links and promotional images over and over.
If you're scrambling to find the winning formula for your Facebook campaigns or sponsored posts on Twitter, know this: online reviews and customer feedback happen to be one of the best places to find relevant, interesting, and targeted content.
50 percent of consumers think that reviews (positive and negative) are the best peer-to-peer contribution to trust. Reviews also

inspire trust twice as much

as general social networking "likes."

A positive recommendation is

more important to consumers

than price and brand combined, with a relative importance of 57 percent for a recommendation, compared to 28 percent for price and 16 percent for brand.
So do share your best reviews on social media. Post links to your Yelp page or your TripAdvisor listing. Share an update about the Certificate of Excellence or OpenTable Diner's Choice award you recently won. Take screenshots of your latest 5-star rating and upload these to Instagram.
If consumers are actively looking online for recommendations and content to guide their purchase decisions, then it only makes sense to let your most vocal customers speak for your brand.
Enhance your brand reputation
No matter how potential customers find you — be it via Google search, print ads, a press release picked up by the local dailies, or some other marketing initiative — your brand reputation is what will ultimately pull them in or drive them away.
Online reviews and customer feedback happen to be one of the biggest factors affecting your reputation (if not the biggest).
What all this means is that, apart from trying to capture consumers' attention, your marketing content should also aim to present your brand in the best possible light.
Before you rush out to meet your agency to discuss ad creatives and PPC, take the time to perform a brand audit and respond to reviews posted on all major review sites where your company is listed. Before you overhaul your website and introduce some fancy new design, generate fresh, SEO-friendly content and run a review request campaign to spread positive word of mouth and bury any negative search results. And before you spend three weeks conceptualizing your next big recruitment campaign, check your reviews on Glassdoor or Indeed and determine a plan of action for managing employee feedback.
By harnessing reviews and feedback, you can create the kind of marketing content that covers your bases and enhances your brand reputation, ensuring that your biggest fans are louder than your harshest critics.
Leverage the power of testimonial-based marketing
Crafting the right messaging in your marketing content can drive campaign success. At the same time, what others say about you can have a more powerful and far-reaching impact than what you say about yourself.
Add a 5-star review or an aggregate rating to the footer of your product page. 
(Learn more about ReviewTrackers' Amplify)
Ask for a quote from a happy customer to spruce up your draft of the press release. Create a testimonials page. Or add lines like "Check us out on Yelp or Google" to your e-mail signature and Mailchimp campaign.
Leveraging online reviews and customer feedback in this way helps you establish credibility and trust more effectively than if your content simply became a platform for you to toot your own horn.
Show your sense of humor
There's always so much noise being generated by marketers, and it's difficult to cut through it and truly stand out.
Humor is one of the most effective ways to get your content noticed. Release the comic in you! People love funny stuff, and they won't hesitate to like, follow, share, and retweet funny stuff. Humor also humanizes your brand. And if your punchlines have a history of going down as gracelessly as a paper bag of vegetable soup hits the pavement, you can always turn to online customer reviews for inspiration.