Download 43 free review response templates for negative and positive reviews
Get the templates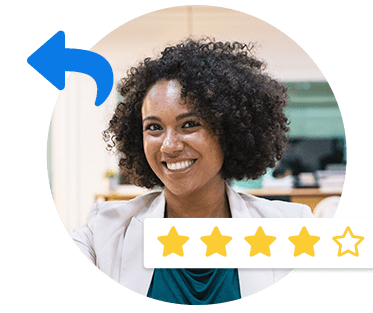 Whether you're running a brick-and-mortar business or managing a national brand with hundreds of locations, you can't deny the impact that local search has made on marketing.
Local search is how people these days search for information online about a certain product, service, or business. They want to find out where it is or what's nearby (versus simply what it is) – and are therefore constraining their searches to specific geographical locations.
According to ReviewTrackers' Local Search Report:
More than a third (35 percent) of all searches have local intent.

14 percent of local searchers say they're immediately looking to visit a business.

And 53 percent of users typically visit a business within 48 hours of conducting a local search.
Indeed, your ability to attract customers can depend heavily on whether or not your business information and content appear on the local search results of consumers who are in your area or are visiting soon.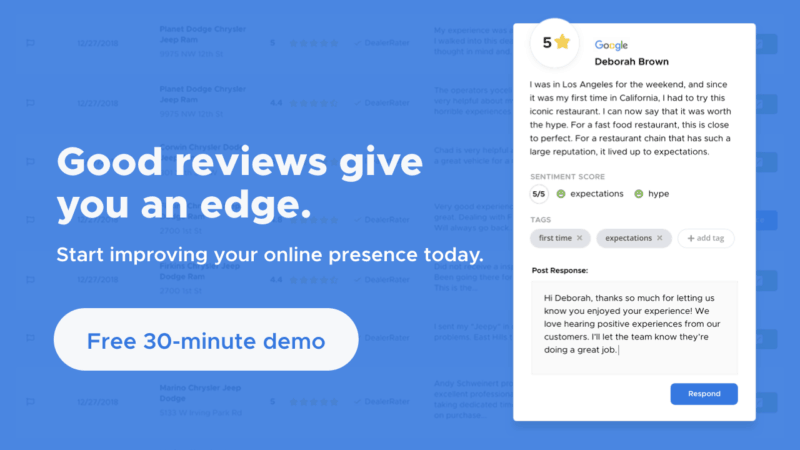 Local Search and Online Reviews
One of the major factors that influence how and where your business ranks in local search is online reviews.
Reviews don't merely shape your online business reputation; they also affect the order and manner in which your business information appears on search engines.
In the 2018 Local Search Ranking Factors report by SEO software company Moz, online reviews are now one of the top 3 most important ranking factors in local search, along with Google My Business and link signals.
This means that a business' review signals — such as review quantity, review velocity, and review diversity — can significantly influence its local search ranking.
Moz's report shows that reviews have seen continued growth in importance as a local search ranking factor, marking a 43 percent increase in importance over the past three years.
The report's findings jive with what we at ReviewTrackers have discovered from previous research:
Google is investing heavily in reviews

, adding features such as

review response notifications

and

updating the GMB app

to place more emphasis on reviews and customer feedback.

Consumers increasingly expect businesses to engage with them via reviews.

Local search is shaped by (what Google has determined as) the needs and expectations of local searchers. Reviews therefore play a major role, particularly since

53 percent of customers expect businesses to respond

to negative reviews within a week.

Google has included review schema in search results

. Tagging your reviews and ratings with schema markup tells Google that those reviews should be showcased when your site appears in search engine results pages.
The key takeaway? If you are getting a significant number (review quantity) of positive reviews with high ratings (review quality) across multiple high-authority review sites (review diversity), you stand a better chance of getting found in local search results.
Your ranking is higher and your brand is more visible; and you have a greater ability to convert local shoppers into your customers.
Local SEO Ranking Factors
Here is the Moz report's list of top local pack/finder ranking factors:
Google My Business Signals

(Proximity, categories, keyword in business title, etc.) 25.12%

Link Signals

(Inbound anchor text, linking domain authority, linking domain quantity, etc.) 16.53%

Review Signals

(Review quantity, review velocity, review diversity, etc.) 15.44%

On-Page Signals

(Presence of

NAP

, keywords in titles, domain authority, etc.) 13.82%

Citation Signals

(IYP/aggregator NAP consistency, citation volume, etc.) 10.82%

Behavioral Signals

(Click-through rate, mobile clicks to call, check-ins, etc.) 9.56%

Personalization

5.88%

Social Signals

(Google engagement, Facebook engagement, Twitter engagement, etc.) 2.82%
The Local Search Ranking Factors report also includes commentary from a group of local search experts. Here are some comments about online reviews and their impact.
David Mihm, Local Marketing Expert
In the search results I look at regularly, I continue to see reviews playing a larger and larger role. Much as citations became table stakes over the last couple of years, reviews now appear to be on their way to becoming table stakes as well.

In mid-to-large metro areas, even industries where ranking in the 3-pack used to be possible with a handful of reviews or no reviews, now feature businesses with dozens of reviews at a minimum — and many within the last few months, which speaks to the importance of a steady stream of feedback.
Andy Monte, Directive Consulting
If I only had to focus on ONE area of local search, it would be to focus on reviews. Google seems to be adding more value and authority to factors that aren't in our control such as links, reviews, and user engagement metrics. Of those three areas, reviews are not only a major ranking factor, but can also affect overall user experience, click through rate, and can reflect the company's marketing/customer service strategy as a whole versus just looking at their digital efforts.
Ben Fisher, Steady Demand
Native reviews on GMB still have a high impact on ranking. Reviews (along with an owner's response) show that consumers trust a business, and trust is a foundational factor in ranking.
By managing the listings more proactively (answering questions, utilizing posts, responding to reviews) you are sending some signals locally that you are engaging with customers as well as actively maintaining your listing information. I think this is as relevant as anything since Google is moving to keep us on Google services longer without a site click-through.
Andrew Shotland, LocalSEOGuide.com
Great reviews can help other areas of the site's SEO including keyword/category association, content creation, link generation, improved CTR, etc.
Colan Nielson, Sterling Sky
Reviews have become so much more important over the last few years and this trend is not going to change any time soon. Google knows this and although their review filter is not great at catching spam reviews they are going to continue to improve this and make reviews an increasingly larger component of the local algorithm.
Phil Rozek, Local Visibility System
Reviews are the one part of local SEO you can never exhaust or see diminishing returns on. They're the one part of your marketing you can always improve, and where you're never "good enough." Your GMB, citation, and on-site work taper off after a while. Strictly in terms of big dumb rankings, links matter more than reviews do. However, with links you only need to do better than your competitors — links won't pay your bills. No customer ever picked a business because of its links.
Miriam Ellis, Moz & Solas Web Design
I would cite review management as most critical to influencing both on-and-offline consumer behavior. Searchers dwell for minutes (hours?) at a time on both positive and negative reviews. They click on them. They even share them socially. They definitely utilize reviews to inform their buyer's journey. So, reviews remain front-and-center for me this year, as they have for several years.
Brian Smith, Rio SEO
User-generated content from customer reviews are critical for long-tailed search rankings and providing additional visibility throughout the consumer search discovery process.

More importantly, reviews have become more mainstream for consumers to use to evaluate a prospective business and determine if they want to visit that establishment.

Businesses need to actively manage, respond, and cultivate their customer reviews now more than ever because people use them as a trusted source and may even decide not to transact with your business based on something they read online.