Download 43 free review response templates for negative and positive reviews
Get the templates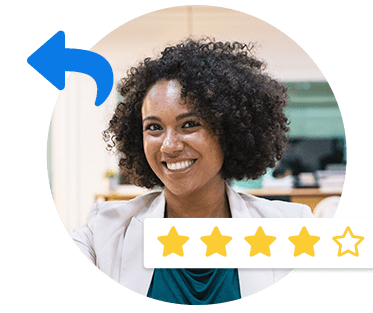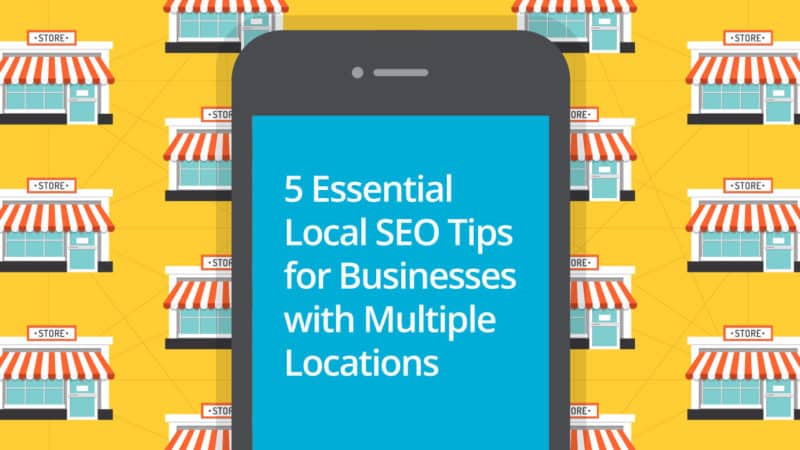 Local search engine optimization (SEO) is considered one of the most effective traffic and purchase drivers for businesses of all kinds and sizes. Done right, it can help a company attract customers without spending thousands of dollars in traditional advertising.
According to research, 92 percent of users choose a business that appears on page 1 of local search results. Strong local search rankings also help attract consumers who are on the go or nearby, with 50 percent of mobile users visiting stores within one day of performing a local search.
In short, strong local SEO = increased traffic and revenue = better business results.
Local SEO for Multi-Location Businesses
Many small businesses, independent retailers, and single-location stores are already benefiting from high local search rankings. But for national retailers, franchises, and large businesses with multiple locations, improving local SEO poses many challenges.
Some may face problems involving scale. Others may try to optimize and rank for the brand as a whole but neglect to localize their efforts. Others, still, lack a fundamental understanding of local SEO principles.
Managing a business with multiple locations? To help you achieve local SEO success, we created a list of tips and tactics that some of the world's top digital marketers, brand managers, and search professionals use to improve their local search rankings.
Create Location Pages on Your Website
Chances are that you have already applied basic optimization techniques on your website, with the goal of improving your visibility in organic search.
Improving your ranking in local search is another story. There is a wide range of ranking factors and signals that you have to take into account, and many of these will affect how you should structure and expand your website.
One local SEO feature that many marketers have incorporated into their website is location pages. Location pages can be described as silos or micro-sites containing optimized content for each of your locations, yet are all linked to your main website.
Here are some best practices to follow when creating your location pages:
Choose a simple, effective URL. Let's say your website URL is www.businessname.com. The URL of your location pages can be as simple as www.businessname.com/city.
Ensure the presence of NAP. Later on, we'll be talking in more detail about NAP, which stands for business Name, Address, and Phone number, but it's crucial for you to understand that this information must be present on all your location pages.
Offer unique and relevant content. Apart from adding the business name, physical address, and phone number to each of your location pages, you can also provide unique store descriptions, operating hours, an "About Us" section, news, deals, and promotions, information about the team or staff, customer reviews and testimonials specific to the location, case studies, and other types of information that you think will be relevant to your page visitors.
Embed a Google map. Make it really easy for search engines and page visitors to find your business locations. Here are the instructions for embedding a Google map on your page.
Make your location pages discoverable. Don't make them available only through, say, a site search feature or your location finder. Ensure that Google and other search engines can discover and index your location pages.
Optimize the pages. To boost the location signals on your location pages, apply optimization techniques like title tags, meta descriptions, and even schema markup. One example of location-optimized schema you can use is the schema for local business.
Master Google My Business
Google My Business (GMB) is a free online dashboard that you can use to manage your business information as it appears on Google Search, Maps, and other Google properties.
With GMB, you can build your online visibility, have your verified information appear on Google properties, track and respond to online reviews and ratings posted on Google, and view data about how people interact with your brand and business locations.
A properly created, well-managed listing on GMB fosters significant local SEO improvements. Listings that have been claimed, verified, and updated — and which also feature strong reviews and ratings — are the ones most likely to rank at the top of organic local search or even be included in the "local pack" of highlighted businesses.
Be sure to read our guide to claiming your business locations in bulk on Google. You can also check out our guide to claiming your business on Google via GMB.
Here are some pointers for multi-location businesses looking to set up their GMB account the right way:
Avoid stuffing your business name with keywords. The business name you should provide should be the exact name of your business in real life.

You'll have the option to add website URLs to the listings of individual business locations. Ideally, the URLs you add should be the URLs of your location pages.

The phone numbers you add to your listings should be local numbers that people can call to connect directly with the actual local stores. Don't use the universal phone number that you may already have for the whole business or for your corporate office.

Add high-quality photos to enhance the visual appeal of your listings. These photos may appear in local search results, too, so make them count.
Ensure NAP Consistency
As mentioned earlier, NAP — or Name, Address, and Phone number — is crucial in driving the local SEO performance of each of your business locations.
This means that the information you provide should be correct and consistent across all the websites (including your location pages), apps, directories, and other digital properties in which your business locations are listed.
Avoid variations as much as possible. Take the time to regularly audit your listings with NAP. (We highly recommend using a database approach and creating a spreadsheet so you can avoid zero discrepancies.)
If your data appears to be unstable, inconsistent, or outdated, Google and other search engines are less likely to reward your business with high local SEO rankings.
This all sounds simple enough, right? In reality, though, too many companies have been careless with the information they provide, and it's driving potential new customers away.
In the US, 37 percent of businesses have at least one incorrect or missing name on their listings. 43 percent have at least one incorrect or missing address. And 18 percent are missing their phone numbers. The estimated cost of wrong local data? A staggering $10.3 billion in potential annual sales.

A report by the Local Search Association (LSA)

found that 37 percent of consumers will not consider a business with inconsistent information, and another 37 percent will take their money elsewhere if a business' website is plagued with inconsistent information. Additionally, 32 percent will not consider buying from a business with wrong contact information listed online.
To help you achieve consistency, avoid these common mistakes:
Having multiple or varying phone numbers for a specific business location.

Not updating your information when a business location has closed or moved.

Accidentally creating duplicate local listings caused by business name changes and acquisitions.

Having NAP variations that can eventually cause issues. For example, writing down "W. Campbell St." when previously your location's address was entered as "West Campbell Street."
Manage Business Listings and Citations
The work you do to set up Google My Business as well as to ensure NAP consistency can be described as being part of a larger local SEO effort involving the building of "citations."
It's not as academic as it sounds. "Citations" simply refer to mentions of your business name on the Web, along with other key information, with or without a link back to your website.
Keep in mind, though, that citations are considered an important local signal, and the quantity and quality of citations that you have can make a direct impact on your local SEO performance.
"Citations are particularly important in less-competitive niches, like plumbing or electrical, where many service providers don't have websites themselves," explains SEO software company Moz. "Without much other information, the search engines rely heavily on whatever information they can find."
Citations include your listings on online business directories like the Yellow Pages and Citysearch, social media sites like Facebook, local search engines like Google My Business, Bing Places, and Yahoo Local, online review platforms like Yelp and TripAdvisor, local business discovery apps like Foursquare, or even local blogs highly associated with a particular city or geographic location.  
Once again, consistency in the way you provide your NAP and business location information is key to successful citation work.
Get More and Better Online Reviews
Big brands and businesses with multiple locations aren't always quick to embrace online reviews as part of their marketing strategy.
Make no mistake, though: reviews play an increasingly important role in driving local SEO performance, as well as in shaping brand reputation, understanding the customer experience, and fostering consumer trust and loyalty.
Google has even made it clear that online reviews are one of the key factors that impact local SEO rankings. According to the search engine, the volume and rating scores of your reviews (on Google as well as on other review sites) — plus your responses — are all taken into account when determining your business locations' "prominence," which is one of the three primary factors influencing local search.
This makes it critical for your entire organization as well as your location managers to understand the world of online reviews. Here are some components that should be part of your review management strategy:
Respond to reviews. By engaging with those who leave positive and negative feedback on online review sites, you can prove that your company listens to the customer's voice and present a caring face to the public. (To improve responsiveness, feel free to use these easy-to-use, fill-in-the-blank review response templates.)
Use online reviews and customer feedback for insights.

Analyzing data from reviews can help facilitate the discovery of trends, patterns, and issues affecting the customer experience. The voice of the customer can be one of your most important sources of learning, so learn to use it to your advantage.
Request for feedback and generate new reviews.

A steady stream of reviews can boost your local SEO performance and even drive conversions. So don't hesitate to ask customers what they think of your business. It's a great way to recover critics and detractors, as well as activate brand enthusiasts who will show support by giving you 5-star reviews.
Share your best reviews.

Your happiest customers can spread positive word of mouth and build a lot of buzz around your business. By featuring your highest ratings and best reviews in marketing collateral, you can generate social proof that your business locations are doing well and putting customers first. (Here are some tips for

incorporating online reviews into your website

.)
These essential local SEO tips should help boost the online presence and visibility of your business locations. While it's not uncommon to encounter, at some point, challenges involving scale, sharpening your focus on the key areas mentioned above will put you in a great position to improve your local search rankings.