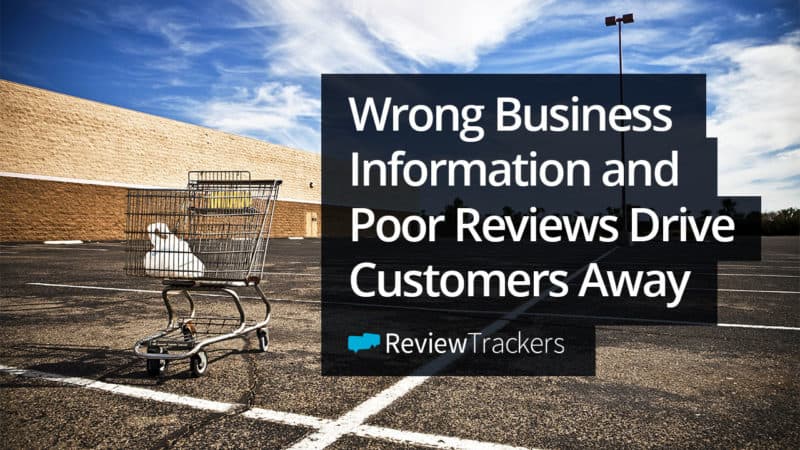 In order to truly understand what drives consumers' purchase decisions, it's important to determine what makes them turn away.
This is what the Local Search Association (LSA) and local marketing solutions provider YP sought to explore in a recently released report entitled "The Why Before the Buy," which found that a range of factors involving a business' online presence can deter potential customers from considering that business.
Here are some interesting findings from the report:
Negative reviews and ratings are a turn-off.
Your company's online reputation is a major factor that influences purchase decisions, and at a time when consumers actively engage with user-generated content on sites like Yelp, Google, Facebook, and TripAdvisor, 55 percent will not consider a business with negative reviews and ratings. Additionally, 27 percent will also voice their dissatisfaction when it comes to businesses with no testimonials, ratings, or reviews.
Consumers favor businesses with a strong online presence.
According to the LSA and YP report, 37 percent will not consider a business with inconsistent information, and another 37 percent will take their money elsewhere if a business' website is plagued with inconsistent information. Additionally, 32 percent will not consider buying from a business with wrong contact information listed online.
Consumers consult multiple sources of business info before buying.
It's one thing to have a website; it's another to plant your flags across different digital properties and ensure that the business information you provide is correct, consistent, and complete. With consumers using an average of 2.9 information sources before making a purchase decision, it's time to focus on building a solid and widespread brand presence everywhere you can: online directories, local business listings, social media, online review sites, business discovery apps, and, of course, your own website.
On specific types of information that consumers look for, the LSA and YP report went on to offer some insights:
Primary information

: 66 percent of consumers check out price when considering a business, followed by products and services offered (53 percent), availability of service (52 percent), customer service (51 percent), and location (43 percent).
Secondary information:

Surprisingly, coupons and offers (39 percent) rank as the type of secondary information consumers value the most, followed closely by testimonials, ratings, and reviews (38 percent), family and friends' recommendations (37 percent), "About Us" or "History" information (26 percent), and photos and videos of the business (23 percent).
Holly Bowyer, VP of portfolio marketing at YP, said, "Many of the reasons consumers choose one business over the next are linked to the business' online presence — something that a business owner can control by correcting misinformation or inconsistent information, encouraging customers to write reviews and sharing video or photo content."
The Cost of Wrong Local Data
The LSA and YP report provides further evidence of how strong brand presence — with correct local business information and great reviews and ratings — can help drive traffic and sales.
On the other hand, incomplete business information, wrong local data, and poor reviews scare customers away.
Unfortunately, many business owners and marketers still don't realize this. According to previous research, approximately 43 percent of businesses in the US have at least one incorrect or missing address listed online.
Ironically, the industry most notorious for having incorrect or missing addresses on their listings is — surprise! — real estate (57 percent). This is followed by insurance companies (55 percent), retail stores (43 percent), restaurants (41 percent), and finance and banking (40 percent).
Meanwhile, 37 percent of businesses have at least one incorrect or missing name on their listings. 19 percent don't have their website URLs, while 18 percent don't have their phone numbers listed.
Expectedly, this is costing businesses a lot of money. In total, about $10.3 billion worth of potential annual sales are lost because of wrong, missing, or incomplete local business information.      
What businesses can do
Here are some tips that you can follow in order to make your online presence stand out, as well as minimize the risks and costs associated with having wrong local data and negative reviews.
Claim your business listings. The more flags you can plant, the more control you'll have over the information and local data published on the Internet about your business.
Guarantee that the information is correct. When filling out your business profiles, always check and double-check. Make sure you have the correct business address, business category, phone numbers, URLs, names, operation hours, and map location in your listings. Spare your potential customers the frustration of having to look elsewhere.
Ensure NAP (name, address, phone) consistency. Consistency in entering your business Name, Address, and Phone Number (NAP) information is particularly important, which is why you have to pay extra attention to detail. It's easy to make the mistake of having variations in your business info. For example, if your business location is at "68 Santa Maria Street," then stick to that way of spelling it, instead of a variation like "68 Sta. Maria St." If your local data appears to be unstable, inconsistent, or outdated, Google and other search engines are less likely to reward your business with a high local ranking.
Update your website. So you've claimed, completed, checked, and corrected all your business listings? Awesome. Now do the same with your company website: that way, you can further help customers find key local information about your business. Feel free to link to your Facebook, Twitter, LinkedIn, and Yelp profiles as well.
Manage and respond to your reviews. It's important to stay on top of your customers' online reviews. This will allow you to spot problems as early as possible, while also alerting you to any reviews or feedback that can potentially damage your reputation.
Getting started with responding to reviews? Download our free review response templates (in easy-to-use Excel format) so you can get back to your customers ASAP.