Download 43 free review response templates for negative and positive reviews
Get the templates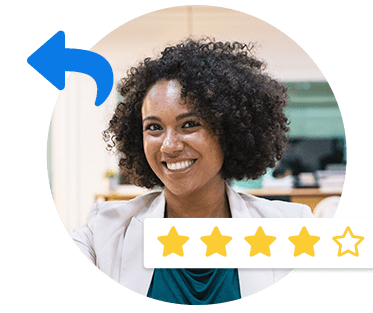 If you are a local business owner, boosting your online visibility is probably one of the most important aspects of your digital marketing and reputation management efforts. Running with the big dogs can be tricky when it comes to review generation, mainly because your overall traffic is just a fraction of what chains and larger business organizations receive. Even if you are capturing the same ratio of reviews to total number of customers, your total count will still be lower, and catching up when it comes to visibility may just feel impossible.
If you currently feel like you are rowing against the wind, we encourage you to explore what Demandforce by Intuit has to offer. It is entirely possible that you already have Demandforce as part of your current system, but fully understanding the capacity of their tools can be tricky.
Today, we want to highlight a few of the features available in the Demandforce Suite that can help you gain ground when it comes to boosting your review generation and online visibility efforts, across the most relevant review sites.
Which Business Segments Can Benefit from Demandforce?
Demandforce Suite is best suited for small business organizations that benefit from building a client portfolio and utilizing a CMS as a means to manage their client list. Here is a list of the main industries currently using Demandforce:
Demandforce Lets You Collect Reviews from Those Who Matter Most, When They Matter Most
Because Demandforce operates in tandem with your client management system, you can carefully tweak many areas of reputation management and marketing. Controlling who receives communications aimed at encouraging online reviews is a great advantage from the perspective of having a carefully managed marketing strategy.
Demandforce allows you to select the timing, speed, and frequency in which you request online engagement from your customers. It also allows you, through notations present in your customer profiles, to address and resolve customer concerns prior to sending marketing media aimed at generating new online reviews. Having the ability to tweak all the parameters associated with getting your best customers to engage with your brand on third-party review sites results in more controlled, higher quality, certified review flow, without peaks and valleys or inconsistent and unexpected customer complaints.

Demandforce Helps Your Business Quickly Reach More Third-Party Review Sites
Before we dig deeper into what Demandforce has to offer in terms of increasing your visibility, we want to remind you that asking customers to write reviews is against the terms and conditions of certain sites like Yelp.
But in other instances, such as OpenTable, TripAdvisor, and Insider Pages, encouraging your customers to write reviews is an intrinsic part of their design and purpose. Now that we know that, let's look at what the Demandforce Suite integration has to offer.
Imagine a one-click function that accesses your client management system and identifies the most recent transactions, automatically sending your customers a request for voluntary feedback. By using only CMS-validated leads, you can be certain that all your reviews come from real customers.
Additionally, once Demandforce has captured reviews from your most recent customers, Demandforce will automatically queue your certified reviews to top review sites, including CheckPoints, Judy's Book, YellowBot, Insider Pages, Citysearch, Yellowbook, CBS Local Offers, Facebook Reviews for Business, Google Plus, Bing, and even your own business site!
Demandforce Lets You Keep Ownership of Your Reviews
One of the most interesting characteristics of Demandforce relates to the issue of content ownership. Because the content is initially requested by your business via your CMS, the content is accessible to you prior to syndication (distribution across many third-party review sites). This is good news for business, and it empowers you to provide remedial action to customer concerns before it becomes public domain.
Demandforce Validates and Certifies Your Reviews
One of our favorite qualities of the Demandforce Suite is the value of certification. Instead of having random reviews that could amount to rants or be the result of an unethical competitor, Demandforce validates each review against transactional activity in your CMS. This type of validation ensures factual data is being submitted. Finally, and most importantly, before reviews are posted, your business has an opportunity to respond in writing, or request removal of a review if it violates Demandforce's posting criteria or external sites terms and conditions.
Another valuable feature is having the ability to pass snippets of data associated with your customer that adds dimension to the shopping experience. For example, a certified review might include information like the tenure of your customer, such as "Customer since 2006." This type of data reinforces credibility and increases third-party review site lead origination.
As you probably know by now, your popularity score, as well as ranking within review sites, has a direct dependency on parameters such as review volume, review frequency, and overall score. In a similar way, having additional review activity across syndicated third-party review sites increases the likelihood of your profile showing up in search in response to long-tail search strings. Most importantly, by having more and better certified reviews across a variety of sites, your small business stands a higher chance of engagement by providing shoppers with credible validation information that increases trust and provides dimension and insights beyond what is available in your business profile or business site.
If your small business has been looking for ways to add speed to your digital marketing strategy, then look into the features already available through your CMS. Become a real-time review guru! For questions or tips on how to increase your visibility and generate more reviews of your business, contact the ReviewTrackers team today.