Download 43 free review response templates for negative and positive reviews
Get the templates
Are you a business owner looking to connect to more users and potential customers on Foursquare? If so, we've got good news for you.
The location-sharing service and online reviews aggregator announced this week that it's rolling out the self-serve Foursquare Ads for small businesses. The new service, available right now to a selection of over a thousand local businesses, is designed to connect Foursquare users to nearby businesses that want to drive traffic to their locations – through targeted, in-app ads.
(Check out: "Foursquare for Business: Six Sweet Tips for Biz Owners")
These location-based ads appear on the devices of ready-to-spend users in a local business' area. Business owners pay for the ads only if the users show up and visit their business (cost-per-action), which they're likely to do, after all. According to a local search usage study published this year by comScore, 78 percent of people who search locally on their phone make a purchase.
"We've been honing our targeting technology, using the same algorithm that powers our Explore recommendation engine," read a company blog post. "Our new self-serve tools mean that we can help more people connect with the over 1.4 million small businesses around the world that are using Foursquare. Best of all, businesses only pay when people visit (in person, or the listing on Foursquare)."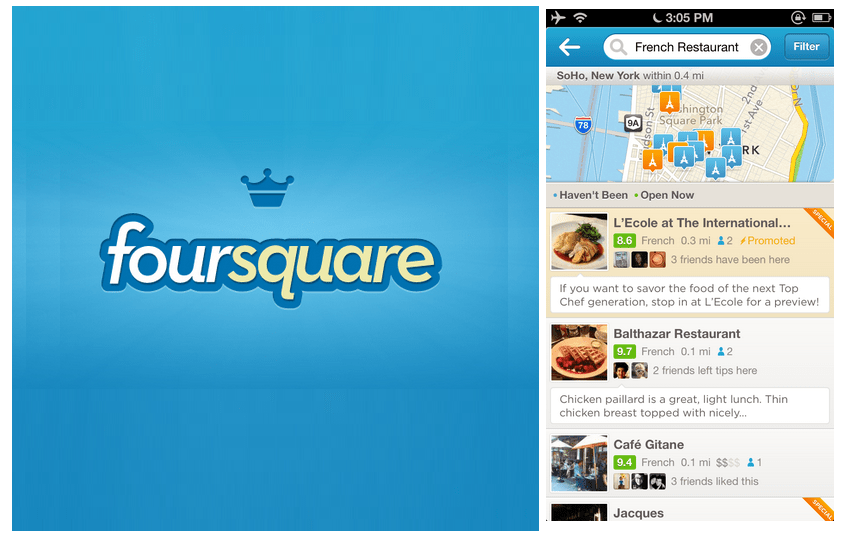 Just last week, Foursquare launched another advertising platform: post-check-in mobile ads, which are designed to target Foursquare users based on relevant check-ins. Ads also appear along with promoted listings within the Foursquare app's Explore tab. For years, the company has offered a free suite of local marketing tools for small businesses, and it launched, early this year, a dedicated Foursquare for Business companion app.
VentureBeat's Ricardo Bilton asserts that Foursquare's ability to generate check-in data and aggregate online reviews helps set its new ad platforms apart from traditional mobile ads. "The company's self-serve ad platform is fueled by the power of its 3 billion check-ins," he wrote. "That data, coupled with all of Foursquare's added insights, gives Foursquare's ads something that most ads often lack — relevance."