Download 43 free review response templates for negative and positive reviews
Get the templates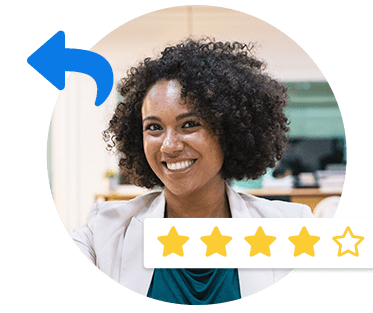 The ReviewTrackers Academy is now accepting new students. Learn more and sign up for free at ReviewTrackers.thinkific.com.
The Customer Experience Management Training & Certification, as part of the ReviewTrackers Academy, helps marketers and online customer service specialists achieve a deeper, more meaningful relationship with their customers by providing a robust online education and actionable takeaways they can use in every facet of the customer experience.
What You'll Learn
The Customer Experience Management Training & Certification starts with an in-depth background of CEM, examples of corporate success, and the metrics behind that success.
The training delves into the "customer-first" approach, provides techniques for understanding customer pain points, and helps students engage with their customers by identifying brand advocates.
The advantages of brand advocacy are outlined in a lesson on user-generated content, and tools that can be helpful for engaging with brand advocates in real-time.
Lastly, students will learn the intricacies of setting up a customer experience strategy and operationalizing internal organizational structures to better serve customers.
Customer Experience is Marketing
More than 90 percent of smartphone users are looking for information while they are in the middle of a different task. The marketing funnel, once taught in every Marketing 101 class, is no longer relevant.
Most marketing organizations are not prepared for this new type of customer. They are organized to play by the traditional rules. Most organizations are still trying to control the message: who the brand is, when the customer interacts with it, and how to measure the message performance.
At ReviewTrackers, we're seeing these changes in organizations around the world. More and more companies are investing in customer experience-specific roles, projects, and even entire departments.
For instance, GM has developed a global Social Media Center of Expertise. It was created in 2013 and was intended to make the digital customer experience a priority. The department works to improve customer communication on social media by responding to questions, comments, and feedback.
The customer experience is the last thing marketing is able to control. Marketers can take these experiences, measure their successes, identify their failures, and work to improve.
The Customer Life Cycle
A lot of marketers have heard of the "funnel." We recently developed an entire curriculum around the customer experience. From awareness to advocacy, our Customer Experience Management Training covers it all.
And what we learned through this process is that Marketing, the discipline of communicating brand value to prospects, doesn't have an endpoint. There is no funnel. Instead, marketing communications occurs in a recursive loop.
We call it the "Customer Life Cycle Loop."
The traditional form of marketing tells a different story. Customers moved in one direction, through the funnel from awareness to purchase.
It was linear, and both B2B and B2C businesses could specialize in each of the steps of this linear progression. Agencies, consultants, and job titles sprang up that reflected this era: PR, Event Marketing, Customer Marketing, Demand Generation, etc.
There are entire industries of experts who believe the best way to win a customer is through direct mail campaigns or hosting events.
But things have drastically changed. The customer isn't always entering a traditional funnel and most of the time, marketers are badly missing their targets. The reason? Social media, mobile devices, and the new digital era.
The 21st-century consumer is jumping in and out of various stages of the "funnel." They are searching for information at seemingly random moments, revealing nothing about their buying intent.
The reality is, people are searching for business information whenever they have free time. Research from Google found that nearly 70 percent of travelers with smartphones explore travel ideas while standing in line or waiting for the subway.
The result is dramatic. Marketers no longer control the message. Customers have all the power and marketing is in the middle of an evolutionary change.
Improve the Customer Experience
For marketers who are just getting used to the idea, or have yet to wrap their head around the entire customer experience, know you are not alone.
The change of order will not occur top-down. It's up to junior-level marketers everywhere to take heed. Organizational changes to marketing departments are coming, and a firm grasp on the Customer Life Cycle Loop is the future. Get ahead of the curve with our free Customer Experience Training, and prepare yourself for the (very near) future.