Download 43 free review response templates for negative and positive reviews
Get the templates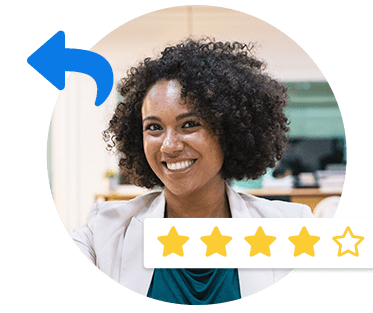 Very few businesses, regardless of size, can claim to have a flawless record when it comes to customer interactions. When looking at organizations, brands, services, and products with a long history of excellence, everyone, without exception, is subject to hiccups.
Even high-quality, customer-focused businesses can fall prey to a series of unfortunate events that are by no means reflective of their true performance or business reputation. When this happens, those involved need to have both the discernment and confidence to sift through the consumer-generated content and separate useful feedback from rants.
Parsing a Negative Review
Before totally dismissing a negative review, business leaders need to have the maturity to identify true opportunities for improvement and take actionable measures, while discarding feedback based on an emotional or unfair reaction. Seldom, if ever, is a highly negative review a full rant. Hidden in what superficially appears unfair is always a grain of truth, and a great opportunity to improve products or procedures.
(Check out: "9 Effective Tips for Responding to Online Critics")
When a review is overwhelmingly negative and untrue, it is up to decisive leaders to set it aside. It's also important to maintain trust in their team if they feel confident they have done their best and adhered to the highest standards. In short, effective leaders, with effective procedures and reliable products, can and should trust their instinct.
Sharing a Rant
When a rant is identified, those in charge of implementing changes and taking action based on customer feedback must carefully decide if there is any value in sharing the rant with the team. If the rant is fully untrue and potentially demoralizing, it is perhaps best kept unshared.
On the other hand, if the rant contains some elements of truth, and/or there is a need to dive deeper into the issue to discover additional details that might provide clarification on the issue at hand, it might be a good idea to share the rant with those involved.
What if Something Truly Went Wrong?
Like we mentioned above, even great organizations with great standards sometimes deliver experiences uncharacteristic of their standard practices. If your business has for some reason or another delivered a nightmarish experience, what may appear like a rant on the surface may be worthy of further action. If you or your team dropped the ball, even if it is uncharacteristic of your business, do whatever it takes to make it right. After all, if in fact your organization takes pride in excellence, this is a great chance to shine and make amends. It's also a great way to practice sound online reputation management.
Rant Remedy
When a rant is discovered, particularly if it is present in a high-traffic, high-volume environment like Yelp, OpenTable, Foursquare, and TripAdvisor, it is important that you don't simply sweep it under the table.
Regardless of whether the complaint is valid or totally unfair, address it. Take the time to engage in conversation with the reviewer; that way, you can also address endless potential customers. Tell your story and make sure that, at the end of the day, you are in control of your message.