Download 43 free review response templates for negative and positive reviews
Get the templates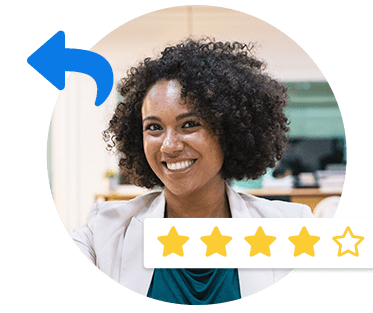 Like all kinds of fears, fear of customer feedback is fear of the unknown: a terrible Yelp review waiting to happen, a phone call with complaints being aired out by a dissatisfied customer, a negative comment that could go viral on social media, an embarrassingly low Net Promoter Score that falls well below that of competitors.
Think of it this way: if you just knew — if you were assured — five-star reviews and words of praise every time you asked for feedback from your customers, would you still be afraid of what you might hear?
It's important for your organization to squash this fear. Customer feedback isn't a Big Bad Thing. It's an important resource, a type of useful information provided directly by people whose needs and problems your business exists to solve: your customers. And it's actually one of the most valuable assets that you can have. By leveraging it, you can improve your entire organization and make your business more successful.
Customer feedback builds business integrity and credibility
Traditional logic dictates that positive customer feedback — be it in the form of five-star reviews, high NPS scores, a pile of Thank You notes, or shiny plaques and awards — brings in more business, while negative feedback scares potential customers away. It's reasonable to expect this to be true, but don't be quick to dismiss the notion that negative feedback can actually be good for you.
According to a Guardian report, 68 percent of consumers place more trust in online reviews when they see both good and bad ones. But if a business seems too good to be true — and appears to have inspired only gushing praise — 95 percent of consumers will suspect that it has faked its own reputation or censored what unhappy customers might have said.
This is why it's so important for your organization to embrace all kinds of customer feedback, regardless of sentiment or star rating. Doing so does not make your business weak or vulnerable; it just makes you, in the eyes of consumers, easier to trust.
Respond to customer feedback.

You can't remain silent. You have to listen to and acknowledge the voice of the customer. At the very least, say thank you to those who voice their opinions and share their experiences. One report

says

approximately

8 in 10 consumers

think that responsive businesses care more about them than businesses that do not at all respond to reviews and customer feedback.
Integrate feedback into your digital presence.

Smart organizations are now adding review functionalities to their own websites (for example,

beauty brands

), while also maintaining active profiles on review sites like Yelp, Google, and TripAdvisor. It's a great way to build business integrity and credibility.
Don't give yourself five stars.

It's a tempting proposition: pay some random writer five bucks to praise you on Yelp. Sounds good, right? Well, not really. Astroturfing can cause the kind of damage your business might be unable to recover from. Not only do you risk getting caught (and finding your company embroiled in a serious legal situation); you're also in danger of looking inauthentic and untrustworthy to discerning consumers.
Customer feedback generates great insights
Harvard Business Review says that people need help figuring out how to improve their performance. So do businesses.
This is where customer feedback comes in: to provide you with the information you need to figure it out and continue to improve.
Maybe a bad review or a candid survey response will make you realize that it really does take too long for the kitchen staff to make the chocolate soufflé. Or that the junior suite on the 20th floor of your hotel really does reek of cigarette smoke. Or that one of the guys manning your Akron dealership keeps missing appointments with customers.
Customer feedback can also generate insights that are of broader value. Maybe your aggregated ratings, your Net Promoter Score, or your word cloud and trending keywords analysis will tell you that peak season is December to March, not November to February. Or that foodies have moved on from Korean and Filipino to Malaysian. Or that policyholders aren't as impressed with your life insurance coverage options as you initially thought.
True to its purpose, customer feedback serves as a source of insight that any level of organization — and any department, not just marketing — can act upon.
Sales teams

can use customer feedback to measure value perception, hone pricing strategies, and drive revenue.

Human resources

can use customer feedback to track employee performance and improve training and development programs.

Customer experience managers

and support teams can use customer feedback to gauge customer sentiment and anticipate and resolve issues with the customer experience.

Operations and finance

can use customer feedback to determine investment priorities and improve ROI.

Research and development

can use customer feedback to fix and improve the product and identify opportunities for enhancement or extension.

Executive teams

can use customer feedback to refine organizational objectives in ways that enhance stakeholder value.
See the big picture
There's an Italian bistro in California that wants to be the worst-rated restaurant on Yelp. In an effort to subvert the popular review site, the owner of Botto Bistro in Richmond offers discounts to customers who write one-star Yelp reviews.
In a way, the campaign worked: Botto Bistro made headlines, generated a ton of publicity, and received plenty of fake negative reviews.
On the other hand, the restaurant must be missing out on the type of information that genuine online reviews and honest customer feedback are meant in the first place to provide. And it must lack the insights that could answer questions like: Is the pizza really any good? Are the waiters nice or rude? Is the quality of service bringing in more diners than does the anti-Yelp campaign? What do people love or hate about the menu?  
With a broader perspective, you can learn to fully appreciate customer feedback. Don't think of it as a cause for fear, or a means for having heated arguments and demands. It's a business resource that, managed properly, can improve your entire organization.