Download 43 free review response templates for negative and positive reviews
Get the templates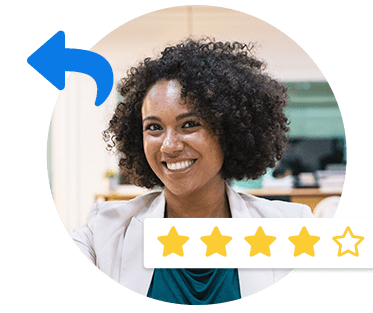 The value of homes is increasing faster than American incomes. Rent prices are growing. And potential home buyers are using online reviews when searching for a real estate agent.
Zillow analysts predict a record will be set for the median age of first-time home buyers. Compared to the 1980s, buyers are about three years older – up to 33 years old, according to Zillow. Since the 1980s, first-time buyers who are married decreased significantly – by 52 percent. In 2015, 40 percent of first-time home buyers were married.
What's more, for 2016, analysts predict people will start moving to the suburbs to be able to afford a home. The prediction is a little surprising considering people have been pouring into cities in recent years.
But the prediction that Americans will move to the suburbs also makes sense, since people will move to "walkable suburbs with 'urban amenities,'" according to Zillow. People crave city-like living.
What might not be a surprising is Millennials are having a tough time transitioning from being renters to buyers and are delaying life decisions. Analysts also predict home value is expected to increase by 3.5 percent, which is about the historical average.
Impact of online reviews
Reviews on Zillow passed 1 million in February 2015. "Agents with 10 or more reviews on Zillow see more than a 300 percent increase in contacts versus agents with no reviews. If you're not asking clients for reviews, you might be missing out on the change to attract contacts who are looking for a trustworthy real estate agent," writes Nancy Robbers, a real estate writer at Zillow.
In the process of buying a home, the first step for home buyers across all generations is to look for properties online, according to the 2015 National Association of Realtors Home Buyer and Generational Trends report. Millennials are most likely to search for information online about home buying, while the silent generation is most likely to contact a real estate agent.
Reputation is the most important factor for buyers when choosing a real estate agent. In addition, 10 percent of buyers said online recommendations were influential when choosing an agent.
Top markets
To determine the top markets for 2016, Zillow experts analyzed "the Zillow Home Value Index (ZHVI) Forecast, recent income growth and current unemployment rates," according to the report. Here are the leading housing markets for 2016:
1. Denver
Analysts predict the home value in Colorado's capital will increase 5 percent. The unemployment rate is 3.1 percent.
2. Seattle
A city surrounded by water where a tech industry thrives, it's predicted that Seattle's median home value will increase 9.2 percent year-over-year.
3. Dallas-Fort Worth
Income growth is strong in this culture and commercial hub. Analysts predict the median home value will go up by 5.6 percent.
4. Richmond, Virgina
With the healthiest income growth of these markets, the unemployment rate is low and Zillow's Home Value Index is growing 2.2 percent year-over-year.
5. Boise, Idaho
The median home value is predicted to rise 4.7 percent in the capital of Idaho.
6. Ogden, Utah
Income growth in the beautiful Ogden market is strong and the unemployment rate is low.
7. Salt Lake City
As the largest elevated area in Utah where the 2002 Winter Olympics took place, Salt Lake City's Zillow Home Value Index forecast is 4.4 percent.
8. Omaha
The low unemployment rate of 2.9 percent in this Midwestern city combined with the rise of incomes put this city at No. 8 on Zillow's list.
9. Sacramento
Analysts predict Sacramento's median home value will increase 5. 1 percent year-over-year in this city near the historic Highway 49.
10. Portland
Analysts predict the median home value in this food capital will increase 5 percent.