Travel reviews aggregator TripAdvisor recently announced the winners of its Travelers' Choice 2012 Awards. Apart from highlighting the best destinations, restaurants, beaches, and travel spots, the list also featured the top 25 hotels in the US and the rest of the world.
Needless to say, if you're a hotel manager or hotelier, it's a huge honor to be part of TripAdvisor's Travelers' Choice list. The reviews aggregator happens to be one of the most popular travel sites in the world, with more than 60 million unique monthly visitors and over 75 million reviews and opinions.
But what does it take for a hotel to be named and recommended by TripAdvisor as a Travelers' Choice? Top-notch guest service, delicious breakfast offerings, clean elegant rooms, and a great, well-situated location are all going to go a long way towards helping your hotel make the list. But you may also have to demonstrate a little bit of online marketing savvy. You'll have to know how to properly respond to online reviews (negative and positive) and protect your online reputation.
(Check out: "Digging Deep into Online Hotel Reviews: A List of the Raves and Rants of Today's Travelers")
We picked three hotels from TripAdvisor's list of Travelers Choice hotels and checked out how they responded to negative comments, low ratings, and complaints posted by their guests. What we noticed? Majority of these hotels also applied best practices in responding to online reviews. Hopefully, other hoteliers and managers can learn from their examples.
Read on to see how today's best hotels are changing the conversation on TripAdvisor.
The Sky Lodge
Park City, Utah
Ranked No. 14 of 25
TripAdvisor Travelers' Choice – Hotels in the United States
Excerpts from the guest review: "…The hotel is falling into disrepair. A layer of dust was found throughout our room and even on the backs of the lobby chairs! Paint peeled from the bathroom wall where the tub filler splashes. Wall sconces in the hallway were either not working or about to fall off or both. The carpets look worn and dirty and upholstery is tattered. The staff was extremely unresponsive to any request and really, just polite enough to not be outright rude…"
Hotel's response: "We sincerely apologize that you found your visit disappointing. We keep our housekeeping to the highest standards, so we are not sure where you encountered dust and we have not had to repair any wall sconces since your August visit. All the hot tubs are checked daily or every other day. On occasion we receive complaints about them not being hot enough, but it's usually the result of guests testing the water temperature with their hand or finger…. We hope you will return to experience the many enhancements we made this fall – we have renovated our lobby, and last week opened two new food and beverage amenities, Table One and Tavern."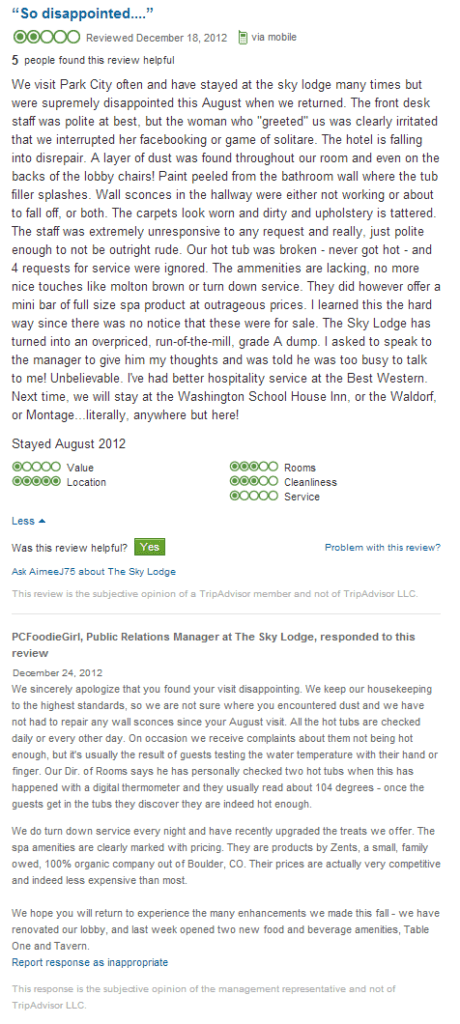 Palomar Chicago, a Kimpton Hotel
Chicago, Illinois
Ranked No. 21 of 25
TripAdvisor Travelers' Choice – Hotels in the United States
Excerpts from the guest review: "Upon late night arrival, we found the bed needing to be tucked in all around and an entry light flickering all night long. This was reported and by the time we left the hotel 7 nights later, the light had never been repaired – only the bulb removed. We were not offered a different room or compensation."
Hotel's response: "…we did share with you that the light issue was a problem that needed a part replaced, which was going to take some time to receive and that we did offer you a room move, to which we were told that you would prefer to stay in your current room and that we were to remove the light bulb instead. I apologize if that was not the message you feel you received from our team…. I can be reached directly…if you would like to further discuss."
The Grand Del Mar
San Diego, California
Ranked No. 2 of 25
TripAdvisor Travelers' Choice – Hotels in the United States
Excerpts from the guest review: "Very disappointed in the service, food quality and experience overall. In fact the only reason I didn't give it only 1 star is because I visited on Memorial Day weekend so I am trying to cut them some slack. Don't bother eating anything from one of their hotel restaurants. Beyond bad, although I should mention that the Addison restaurant which is on their grounds was closed so I am not talking that place in particular."
Hotel's response: "Thank you for taking the time to share your valuable review. The experiences you described are not characteristic of the level of service our colleagues strive to provide, and we apologize your stay was unsatisfactory. Your feedback was shared with our team, and we look forward to the opportunity to welcome you back and exceed your expectations."
Monitor what customers are saying online and respond to reviews, comments, and questions nearly in real-time!
Not a Customer yet? What are you waiting for?
Sign up for a free trial of ReviewTrackers today.
Review Trackers is powerful, easy-to-use, review monitoring and reputation management software that will help you:
Monitor competition and improve your relative service, product quality, and customer experience
Improve customer engagement and proactively address customer needs
Respond to customer reviews, comments, and questions across multiple sites from one central location in near real-time
See why Review Trackers is currently used by tens of thousands of business locations across the nation. Sign up for a free trial and take your business' online reputation into your own hands!