Download 43 free review response templates for negative and positive reviews
Get the templates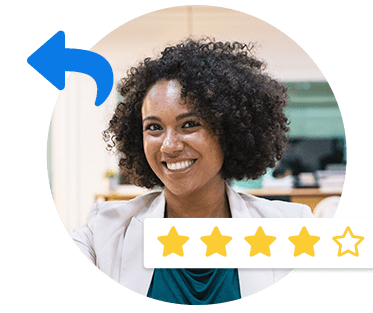 If you are like most small to medium businesses, then decisions related to marketing strategy are either taken internally by a generalist or outsourced to small, local marketing agencies.
Without the advantage of having an internal, dedicated marketing team, there are many insights related to strategy that often go untouched, and may have an impact on how you acquire leads and how you manage your online reputation. Many small marketing agencies rely too much on antiquated marketing methods that are no longer conducive to conversion or brand development. For lack of better information, local businesses often engage with less experienced agencies and don't raise concerns until it is too late.
At ReviewTrackers, we spend significant time understanding the intricacies of review management and monitoring. Oftentimes, our internal research points to areas of opportunity often neglected by businesses as well as marketing agencies.
So grab a chair, a pen, and a notepad, and let's take a look at five areas of review management your agency might be neglecting in favor of other marketing activities.
#1: Your Review Profiles May Be Ranking Better Than Your Site!
If your business has not invested in intentional and well-managed SEO campaigns, chances are your site is not visible at all for common searches associated with your niche.
(Check out: "The SMB Owner's Cheat Sheet on How to Make Every Online Review Count")
If this is the case, there is a distinct possibility that review sites such as Yelp, Google, Yahoo Local, TripAdvisor, and Foursquare are ranking higher than your site for industry-related terms, and even for your own brand. Here is a great example to help you see why your review profiles may be more powerful in terms of lead origination than your site:
Conduct a search in Google for "pest control San Francisco."
Review the first four results. Chances are you will be looking at Yelp listings instead of business sites.
Now search for "Clark Pest Control San Francisco."
Your first result will be a Yelp-driven result, and your second result is based on a good implantation of Google Places.
As you can see, even if your marketing agency is making strong and costly recommendations as it relates to your site, you stand a better chance of positioning your business as an industry leader by allocating significant time and effort to managing your review profiles and online reputation.
#2: You Should Be Leveraging Your Online Reputation on Direct Marketing Materials 
Many small marketing agencies are way too swift to use templates, both in design and verbiage, when launching a direct mail campaign. When the time comes to review your marketing collateral such as brochures, flyers, posters, and magazine inserts, make sure you are taking advantage of the endorsements available to your business on popular review sites.
If you are fortunate enough to have a badge, such as a TripAdvisor Certificate of Excellence or Best of CitySearch, then make sure you include it as part of your pitch. If you are still working on building your online reputation but you are fortunate enough to have a few five-star reviews, then consider featuring the review in its totality, or a highlighted portion that best conveys what your business has to offer to future customers.
#3: Improved Reputation Is Ten Times Better Than Rebranding

Many small marketing agencies approach businesses promising the moon and the stars. Often, their very first suggestion is a revision on branding, meaning a new logo and a new site design.
While this may in fact be beneficial for your business, you must first tackle what matters most to your past, current, and future customers. By first working on implementing strategies designed to improve customer satisfaction, thus securing a better online and offline reputation, you can set the stage for a successful rebranding where your new image is in great alignment with the quality of goods and services you are providing.
In short, a pretty logo and a nicer site don't fix core issues. Go to the core of the matter first, and work your way outward, toward operational and marketing excellence.
#4: Review Management Costs Less and Yields More Than Other Marketing Strategies
For small and medium-sized businesses, every marketing penny matters. If your local marketing agency is presenting a variety of options related to potential marketing channels, then there are three things to consider: cost, effectiveness, and trackability.
Marketing outreach tools such as radio or television can be pretty costly and have a low trackable yield. Google advertising might be effective, but you cannot build upon it, as payment is per-click. Reviews, on the other hand, involve minimal management costs and provide small to medium businesses with unprecedented exposure and the ability to interact directly with prior customers and segmented shoppers.
Newly implemented features such as TripAdvisor's Questions & Answers feature enhance the value of investing your marketing dollar in review management. Yelp, for example, provides businesses with metrics that let them track lead origination and understand the direct influence of review sites in their overall profitability.
If your goal is to obtain the most bang for your marketing buck, then don't be dissuaded by weaker proposals; stick to hands-on reputation and review management.
#5: You Can Use Reviews for Competitive Analysis and Business Intelligence
Having appropriate marketing insights is essential to a sound and functional marketing plan. If a marketing agency suggests the use of surveys or other internal tools that might prove costly to conduct market and competitive analysis, then you might want to suggest review-based data mining. Reviews provide marketers with tremendous insights, capturing not only the wants and preferences of your customers but also what makes competitors succeed. By parsing the data available on popular review sites, your business, together with your marketing agency, can draw a clear picture of the metrics that truly drive business in your segment.
The key to engaging a local marketing agency is to develop a model based on collaboration. Work together with your marketer and seek to identify channels that will let you grow in volume, revenue, and reputation. ReviewTrackers can help you and your agency reach your marketing objectives by maximizing your review management strategy and giving you the insights you need to make customer-driven business decisions.