Download 43 free review response templates for negative and positive reviews
Get the templates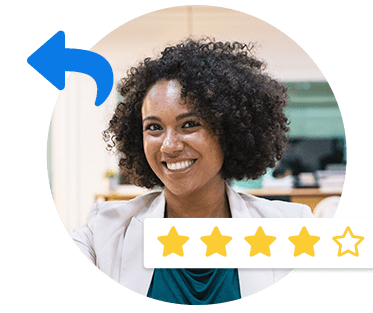 Monitoring online reviews and customer feedback is just as important for golf courses, golf clubs, and golf resorts as it is for any other business. Online review sites and social media provide any golfer with the opportunity to voice their opinion about your facility.
Evidence of this is found at the facilities that Troon operates and manages.
Troon, which describes itself as "the largest third-party manager of golf and club operations in the world," is more than a golf management company. All of its facilities deliver a world-class experience with excellent playing conditions. Golfers will also find a consistent guest experience the entire time they're perfecting their swings at a facility managed by Troon.
Listening to Golfers and Responding to Reviews and Feedback
When it comes to listening to what golfers are saying, Ricky Potts, digital communications manager for Troon, understands the importance of golfer feedback.
"We can turn golfers who had negative experiences into lifelong ambassadors," he says, "because if there is an issue that they had, we can make it right."  
According to the latest industry research, 3 in 4 golfers pick their courses based on online reviews. 80 percent read online feedback shared by other golfers, and almost all of them will make their decision based at least partly on the information they read.
This makes online review monitoring and feedback management a top priority for Potts, who is constantly looking for ways to give golfers an experience that they'll love.  
He says, "If somebody has an experience, whether positive or negative, we want the golf facilities to be listening."
Responding to positive and negative reviews
When a review is positive, Potts encourages a manager or individual from a Troon facility to thank the golfer for coming out, taking something from the review and personalizing it.
"So if somebody says, 'Made a birdie on hole 3 and had a great experience, course was in great shape,' then in that response don't just say, 'Hey, thanks for spending the day with us and look forward to seeing you soon.'  Yes, thank you for spending the day with us but 'nice work on your birdie on 3, that's a tough hole. Thanks for coming out, and we look forward to seeing you again soon.'"
Read MORE: 8 Amazing Examples of Business Owners Responding to Reviews
When there's a negative review, Potts says that he recommends facility staff apologize about the experience — regardless of whether or not the criticisms were valid — then take the conversation offline.
"It's very important that we listen to negative reviews, apologize about the situation, and give the reviewer a phone number and/or e-mail address to take that conversation offline," Potts says. "Because that's important to the person that's upset. They're going to Facebook, Twitter, TripAdvisor, Golf Advisor, or wherever they could leave any of these negative reviews. And they're going to be upset leaving that negative review."
By listening carefully, offering an apology, and leaving contact information, Troon makes guests feel like they can communicate candidly with an individual from the facility at which they had the negative experience.
It's an effective loss prevention tactic. According to market research firm PhoCusWright, 78 percent of consumers say that seeing management respond to online reviews and customer feedback makes them believe that the business cares more about them. A Cornell University study has also detailed how responding to reviews can make a positive impact on brand reputation and revenue.
Acknowledging the Golfer and Creating Captivating Experiences
Potts is on his phone constantly. One night, he was searching through Facebook, Twitter, and other social media sites to see and hear what people were saying about Troon facilities.
"A guy was talking about how excited he was to play Troon North the next day," he recalls. "It was his first time playing the course and he couldn't wait to play."
So Potts responded to the tweet and wrote, "Have a great time. Enjoy your day."
The next morning, Potts came into the office and sent the assistant general manager an e-mail about the guest who had tweeted about Troon North. 
He says, "The assistant general manager then goes out to the golf course on hole nine, finds the gentleman, hands him a food voucher and a logo hat and thanks him for coming out to spend the day with us. That golfer ends up coming in after his round, and he's so impressed by the experience that he spends more than what the food voucher was for. He ends up canceling his flight that afternoon so he can play 18 more holes, generating additional revenue. Imagine how that gentleman is going to go home and talk to all of his friends about the experience that he had at Troon North Golf Club."
Small gestures like this demonstrate how Troon is able to bring in additional revenue by constantly listening to guests.
Designing Programs to Engage Golfers
Despite news about the declining popularity of golf and the difficulty of getting new golfers to stay in the game, Potts says he sees the game of golf growing.
With such enthusiasm for the game, it's no surprise that Potts has also been part of Troon's implementation of programs designed to truly engage guests. One such program is Troon Values Your Time, which ensures golfers that they will be able to have an enjoyable experience while playing a course in a reasonable amount of time, with tailored pace-of-play expectations.
"It's a program we've implemented at facilities worldwide to encourage pace of play because that is a concern," Potts explains, "and we know that based on surveys that we've run with our golfers."
One of the highlights of the program is a sort of free-for-all golf experience at Ak-Chin Southern Dunes Golf Club in Maricopa, Arizona. Everyday at 2 PM, the golf range shuts down so every ball can be cleared. At 3 PM, the range reopens as a 6-hole short course called #miniDunes.
"It's a concept that just for $12 bucks, you can go out and play those 6 holes over and over again," Potts says. "And the only rule of #miniDunes is that there are no rules."
In addition to Troon Values Your Time, the team at Troon also created Troon Junior Club, a program dedicated to growing the game of golf. Hundreds of juniors age 17 and under participate in the program, which harnesses the capabilities of social media app Instagram in order to grow memberships.
"Being a digital person, we realized that juniors aren't communicating on Facebook and Twitter as much as they are on Instagram," Potts says. "So we have an Instagram account for the Troon Junior Club and it's our only form of communication to our Junior Club members. 75 percent or more are active on Instagram so it's cool to see them post pictures and get excited about playing the game of golf."
As for the future of the sport, Potts notes that ease of traveling to the golf course will be key.
"Troon has a partnership with Uber," he says. "That's something that we saw: we did a survey of our golfers and 68 percent of our golfers from the 10,000 people who completed the survey had not taken a ride-sharing service like Lyft and Uber."
Through golfer-centric initiatives and programs like these, Potts and the rest of the team at Troon continue to demonstrate their commitment to the guest experience. And the doubts of industry observers, he remains optimistic as ever about the future of golf.
"I have no idea what's going to happen tomorrow," he says, "but I look forward to finding out because the best is yet to come."