See customer feedback from over 100 review sites in one place
Request a demo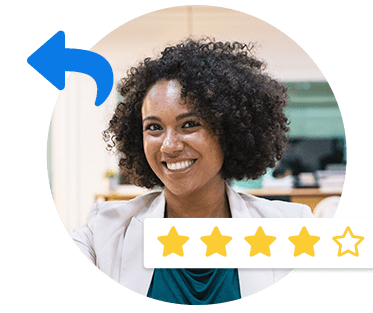 Google reviews widgets, available in various shapes and sizes, enable you to embed or display online reviews from your Google business listing on your own website.
Using widgets to display a business' Google reviews has become a go-to strategy for today's marketers. This allows them to leverage reviews as a powerful form of social proof. It also helps drive conversions and can even boost a site's search engine optimization (SEO) performance.
Improved search performance.

You can gain greater search visibility and drive more traffic by leveraging reviews,

a top 3 ranking factor

in local search.

Higher conversion rates.

When ratings are displayed in search results, conversion rates

can go up

by up to 17 percent.

Powerful social proof.

When choosing a business, 94 percent of consumers rely on online reviews.
Adding reviews to your website can even help reduce cost-per-click on your AdWords campaigns. By displaying reviews on campaign landing pages, you can increase conversion rates and engagement, lower bounce rates, and improve your own ad quality scores.
Why use a Google review widget?
In general, online reviews have tremendous potential to influence consumers' purchase decisions. Reviews posted by customers on Google are particularly influential.
According to the 2018 Online Reviews Survey, Google is today's top review site, with 63.6 percent of consumers saying they are likely to check online reviews on Google before visiting a business — more than any other review site. (Yelp ranks second at 45.18 percent, followed by TripAdvisor and Facebook.)
How to Use a Google Reviews Widget to Display Reviews on Your Website
If you only copy and paste your customers' online reviews to your website, it may not seem as compelling or trustworthy as when you embed reviews directly from your Google business listing.
The copy-and-paste approach might also take away some of the legitimacy of your reviews, especially if they're not linked to a third-party review source or platform.
Fortunately, there are a number of review widget options for integrating those valuable reviews into your website.
ReviewTrackers
Our software platform for managing online reviews includes a review widget suite that can display all or a curated set of customer reviews on your website.
The Google reviews widget can be set up in minutes — and requires no dev time to maintain. You can hand-pick your own featured testimonials or display a live feed of fresh review content from Google, with "set it and forget it" ease.
To see the review widget suite in action, sign up for a free demo of ReviewTrackers.
Google Review Widget Plugins for WordPress
WordPress, which continues to be a popular choice for custom websites, also has its own catalog of review widget plugins. There are 33 pages of search results alone for "Google reviews widget."
Some of these widgets allow you to save reviews in your WordPress database, so that you don't have to depend on third-party data sources like Google to show reviews in the widget. Alternatively, there are Google reviews widget plugins that let you syndicate directly from your Google business listing, so that the review widgets on your website are updated whenever new reviews come in.  
Whatever your preferences are, make sure you do your due diligence before choosing the right Google review widget or plugin for your website. Check to see that it's compatible with your site's code and that it offers everything that you need.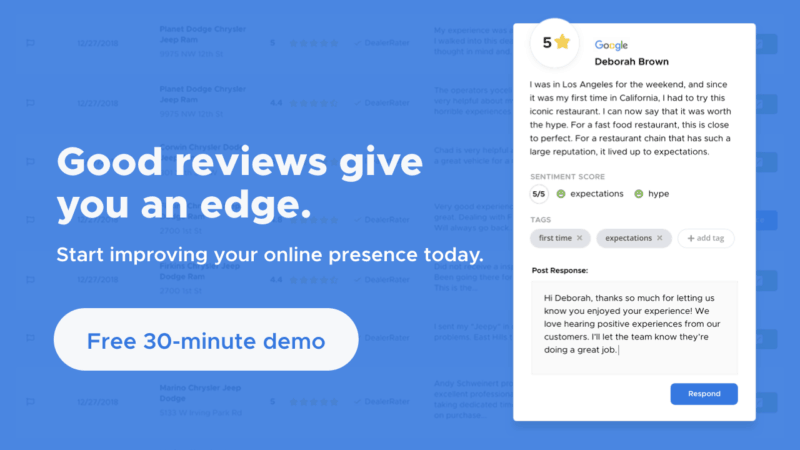 What Next?
There's still work to be done after you've chosen your Google reviews widget. To maximize the results of your efforts, here are some best practices you can apply:
Create and use a Google reviews link. Now that you have a Google review widget in place, make it easier than ever for your customers to rate your business on Google. A Google reviews link gives them an easy way to leave feedback about your business.
Use Google review stickers. The Small Thanks with Google website lets you create, download, and print personalized marketing materials and turn your reviews and business information into ready-to-use social posts, stickers, posters, and more.
The messaging in these materials centers around promoting your business using customer testimonials, or requesting customers to find your business on Google and share their photos and reviews on the site.
Monitor and respond to Google reviews. It's definitely in your best interest to respond publicly to reviews on Google, regardless of the star rating.
Consider this: 45 percent of consumers say they are most likely to visit a business if it responds to negative reviews. Responding also tells 80 percent of customers that a business cares about their feedback, regardless of the review sentiment.
(For more, read our guide on responding to Google reviews.)
Avoid review-gating. Google doesn't want businesses to discourage or prohibit negative reviews or selectively solicit positive reviews from customers.
A practice commonly referred to as "review-gating", it's normally done by sending customers a feedback or survey form — be it through email, SMS, landing pages, or social media. Based on their form responses, customers are then asked to either post a review on Google if they had a positive experience — or share details of their feedback privately if they had a negative experience.
Remember: don't selectively solicit. To stay compliant with the policies of today's top review platform, as well as responsive to the ever-increasing demand for transparency and authenticity in reviews, make it clear that customers can leave you a negative review if they feel the need.
Most brands are sitting on tens of thousands of reviews that they haven't incorporated into their marketing strategy. By taking advantage of the right Google reviews widget, you can optimize your site for on-site conversion and make reviews more accessible to people evaluating your brand.