If you're managing a hotel (or some other travel-related business), you're likely aware of how important it is to know which sites your potential guests are visiting online in order to find their travel information.
The Internet, after all, has become this generation's travel agent. Anyone can go online to look up flights, book hotels and car services, monitor hotel reviews, create their own tour itinerary, and even make reservations at restaurants.
Research firm eMarketer – through competitive intelligence company Experian Hitwise – recently released the latest info on the top travel websites among US Internet users. The number one travel website, according to the study, is Google Maps, which provides more than just directions. Google Maps is also heavily integrated with the search engine's reviews aggregator, Google+ Local, as well as with the Frommer's brand of travel guides.
(Check out: "Google Announces Acquisition of Frommer's Travel Guides")
Online travel booking site Expedia and travel reviews aggregator TripAdvisor – two of the sites featured in Review Trackers' list of travel review sites to monitor – are also in eMarketer's list, ranking third and fifth, respectively.
Directions-focused MapQuest, low-cost airline site Southwest Airlines, travel booking service Priceline.com, Delta Air Lines, flight finder CheapOair, online travel agency Travelocity, and online travel company Orbitz round out the top ten.
In an article, eMarketer attributed Google's success to its expanded offering of travel information. "In just the past 18 months, Google has launched metasearch engines Flight Search and Hotel Finder, in addition to acquiring offline restaurant and travel guide mainstays Zagat and Frommer's," according to the article. "Now the company is integrating this travel-specific content into its search results, maps, social graphs, and mobile services."
(Check out: "Google Maps, TripAdvisor, and Urbanspoon Among Top Mobile Apps and Sites for Travelers")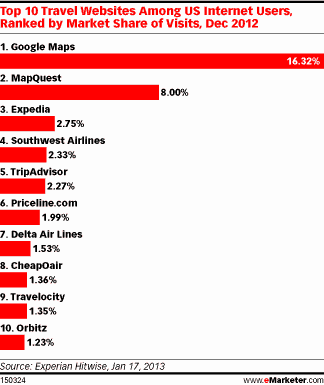 Can your hotel be found on all of these travel sites? If not, follow our how-to guide for claiming your business listings. That way, you can plant your flags on today's most popular travel sites and review aggregators – and reach out more effectively to existing and potential customers.
Infographic credit: