Download 43 free review response templates for negative and positive reviews
Get the templates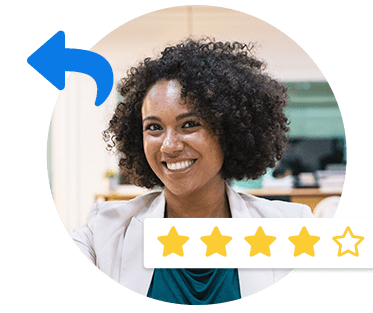 Imagine a future where aliens live among us (if they don't already), cars can fly, and the customer experience is the main focus of every business.
Aliens and flying cars do not exist on our planet yet, but the customer experience of the future is already here. It's the extra time spent with a patient, or it's the food at a restaurant that is sourced from local farmers.
Blake Morgan, author of More is More: How The Best Companies Work Harder and Go Farther To Create Knock Your Socks Off Customer Experiences, says, "The future of business belongs to humble companies. This means that when things go wrong for customers, humble brands publicly apologize and fix the problem immediately."
"Customers trust recommendations from total strangers before they trust marketers," she says. "If a brand sells quality products and stands by their customer promise, customers will have positive experiences and talk about those experiences."
The idea of focusing on the customer experience may seem simple, but it's a tough process to carry out. You want to stay on top of how all of your business locations are performing and understand all the interactions that customers have with your company.
You also need to have a system in place for listening to and capturing customer feedback in order to engage customers and provide the best experience possible. 
Need to Be Customer-Focused  
To stay competitive in the future, companies will need to be customer-focused. This involves getting the entire organization to focus on the customer and to unite around the goal of meeting their needs.
The future of the customer experience is going to be shaped by all the ways a brand interacts with its customers, whether online or in-store. Maintaining and improving customer experience will be how a business stays ahead of the game. It will be about how a company meets the needs of its customers and how well companies listen to customers.
Starbucks continues to exemplify what it's like to create unique guest experiences. The company will grow its Reserve brand in up to 1,000 Starbucks locations by the end of 2017, according to Reuters.
"We know what our customers want more from us, they want more experiential elements," a spokesperson told Eater. "And the Reserve element gives them the chance to engage at the coffee bar, to talk through coffee with baristas."
A company spokesperson told Eater that Reserve locations will include Black Eagle espresso machines, Chemex, nitro cold brew taps, and pour-overs, as well as traditional menu items such as Frappuccinos.

Customer Loyalty
With the rise of social media and online review sites, customers can now post feedback about a business in seconds. Your organization needs to listen to customers and know how to use feedback in order to understand the customer and improve loyalty.
The business of the future will need a tool for measuring customer loyalty. The most popular methodology likely to be used by customer-centric brands is Net Promoter Score.
NPS is a survey based on a simple question that you ask your customers: "How likely is it that you would recommend company to a friend or colleague?"
The customer then answers on a scale of zero through ten, with ten being most likely to recommend your business and zero not likely at all.
The customers are placed into a category of Promoters (9-10), Passives (7-8), and Detractors (0-6). Promoters are the customers who will keep coming back: the loyal customers.