Download 43 free review response templates for negative and positive reviews
Get the templates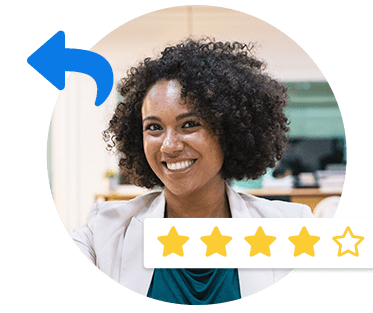 For more than four years, we here at ReviewTrackers have always been committed to helping you improve your understanding of customer feedback. We believe in making it simple for you to discover what your customers are saying online, while empowering you with tools to improve your business.
Our products have helped tens of thousands of businesses understand and improve their customer relationships. We are thankful every day for our customers as they continue to shape not only our company, but the industry as a whole.
It is because of their continued support that we have won multiple awards, exceeded industry loyalty benchmarks, and generated many 5-star reviews.
As part of our commitment to customers, we're excited to announce that we have secured $4 million in growth capital from a group led by American Family Ventures. Square 1 Bank, a division of Pacific Western Bank, provided a debt facility to complement this latest capital raise. In 2014, we raised $2 million, which brings our total financing to $6.1 million. 
This amazing news means we will be able to accelerate the development of our products and meet the needs of our expanding enterprise customer base. We'll also be using our new resources to continue to develop features that set the industry standard for how companies understand the post-transactional customer experience.
Since day one, our team has focused on making your life easier, saving you time by centralizing your reviews and ratings in one dashboard, helping you respond to comments and customer feedback posted on Yelp or Facebook or TripAdvisor, or inspiring happy customers to share positive words about your business. We listen to your feedback and constantly think of ways to innovate, so that you can listen more effectively to the Voice of the Customer and understand exactly what it's saying.
We've come a long way since the launch of ReviewTrackers in 2012. Today, over 25,000 business locations take advantage of our powerful customer feedback software. At the same time, we also recognize that we wouldn't be where we are now without your continued support and valuable feedback.
So, thank you to our customers, partners, employees, and friends who have supported us along the way.
You inspire us to create "crazy" value every single day. To express our gratitude, we will continue to stand by our commitment to helping you understand your customers.
As always, you can ask us questions, let us know how we're doing, and give us tips, feedback, and suggestions – just drop us a line!
If you love our product now, you will be amazed by what we have in store for you over the next few months.
Not a customer yet? What are you waiting for?
Sign up for a free trial of ReviewTrackers today.
P.S. Are you looking for a new job? We're hiring.
---
This post was updated on July 19, 2016.