Download 43 free review response templates for negative and positive reviews
Get the templates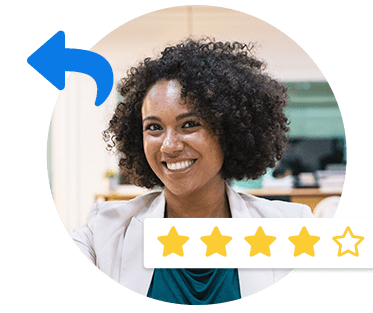 When it comes to positive, engaging and sales-conducive user-generated content like online reviews, companies feel helpless, more often than not. After all, consumers will say what consumers will say.
While this may appear logical it is not necessarily true. Large corporations that depend heavily on social media have evolved and incorporated practices aimed at setting the stage for superior online reviews that provide a rich narrative, with descriptors that will encourage future customers to engage with their brands.
In order to maintain a competitive edge, these practices are often kept in a very low profile, and only those privy to the insights of the best content marketing strategists have been able to learn and imitate as they develop their own content.
While there are many ways to guide, incentivize, and otherwise motivate customers to give a good word about your business, these three may be the most effective and easy to implement:
Mimic the Customer's Voice
Study the way a particular customer segment articulates your product or service, and then serve content on your webpage, your product labeling and all offline marketing materials that seeks to duplicate the way the most profitable and most engaged customers describe your goods.
(Check out: "Encouraging Online Reviews: 5 Tips to Make It Easy")
Why? Because this will reinforce the manner in which new and potential customers perceive you. It will also equip them with the right terminology to narrate their experience, creating a self-propagating cycle of great keyword-rich reviews and user-generated content.
Be Consistent and Brand-Aware in Providing Adjectives and Descriptions Associated with Your Goods
Lead content strategists know that sticking to a style or voice, and serving their customers with words that are aimed at describing their products in the best light, facilitates a more fluid review. If a brand is the expert in what it produces or sells, it is the one that is best equipped to introduce its customers to the vocabulary associated with its products.
The culinary segment, particularly at a higher level, provides an excellent example of how terms and trends can be incorporated into menus and marketing materials that will quickly flow downstream to the consumer's review vocabulary. Words like "house-made," "Alioli," "foyot," and "braised" will quickly travel from menus into reviews and social media, where brand advocates will be liberal in bragging about their dining experience by using the terms provided by the vendor.
Be Segment-Sensitive
A common denominator among great content creators and strategists is having the discipline to fully identify both promoters and detractors, by carefully studying their unprompted feedback provided in online review platforms, as well as guided feedback provided in customer surveys.
By fully grasping segmentation and pinpointing details such as gender and income level, content strategists are able to carefully craft their message by using concepts and highlighting aspects of the business that are most likely to appeal to the most desirable segments.
Gathering, ordering and effectively using business intelligence as provided by online reviews is no small task. But with the right tools and consistent, customer-focused processes, every organization regardless of size should be able to glean from these concepts and make them their own.