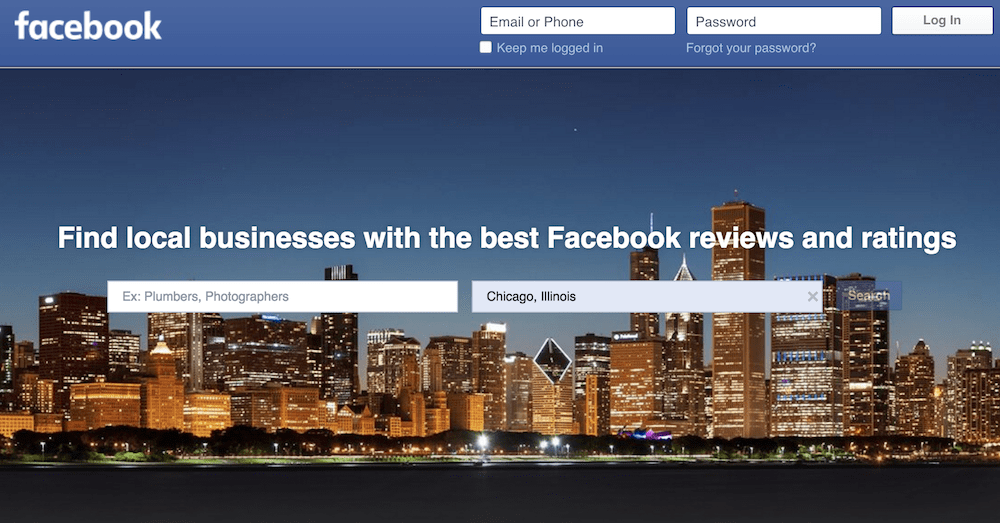 The sleek BMW that you bought used? Well, it has an engine issue. It's a sporty X3, but four years after the vehicle was made, the engine is starting to shake furiously while you're driving. Now you need to find someone to fix the engine, you have no choice, so your first plan of action is to sit down in front of your computer and search for "automotive" on Facebook.
Facebook has all of the necessary information to aggregate top-rated businesses in one place, and now the social network is doing this with a page for local businesses with the best Facebook reviews and ratings. TechCrunch reported the new page, where users can look at reviews of top-rated businesses, but Facebook has not made a formal announcement.
Facebook Professional Services
Businesses in industries like medical and health and automotive are presented on the home services Facebook page. When a consumer begins typing into the search box, Facebook suggests different services, organizations and businesses a customer might have otherwise never thought about, including eco tours and robotics. In Chicago, for example, the Chicago Engineering and Design Team is first on the list.
The service search box also shows businesses like contractors, painters, decorators and dog walkers.
When doing a basic search for restaurants in Chicago, Facebook displays the "best restaurants in Chicago" with the ratings and reviews, phone number, hours and location of each business. Under the business information, reviews about the business are displayed.
This new feature will help position Facebook in more direct competition as a review platform with service-focused sites like HomeAdvisor, Houzz, and Healthgrades.
While it's not known how Facebook is ranking top businesses, Facebook is taking more than the number of reviews and ratings into account, according to TechCrunch.
"That could mean that Facebook is using other data it knows about the logged-in user, like whether they've visited the Page, rated the business, have liked the page, or had friends who liked the page, and so on," writes TechCrunch's Sarah Perez. "But that's all just speculation for the time being."
(Check out: "Why Facebook Reviews Matter")
Facebook vs. Amazon and Google?
A spokesperson from Facebook said, "We're in the early stages of testing a way for people to easily find more Pages for the services they're interested in."
Facebook said its pages are one of the first places social users can go to for information about a business, on mobile phones in particular.
The company is also testing this page at a time when Amazon and Google are doing something similar. In late March, Amazon launched Amazon Home Services, which offers customers hundreds of options for professional services such as automotive and cleaning.
Google launched home services as an extension of their AdWords Express in July to connect residents searching for local services.
But the difference between the Facebook page and Google and Amazon's service page, is that Facebook includes different kinds of businesses, not just home services.
From BMW dealerships to photographers, the new Facebook Services page gives consumers a range of service and business options all in one place.
Managing a local business page on Facebook? Here's ReviewTrackers' 2015 local business guide to Facebook Pages.