Download 43 free review response templates for negative and positive reviews
Get the templates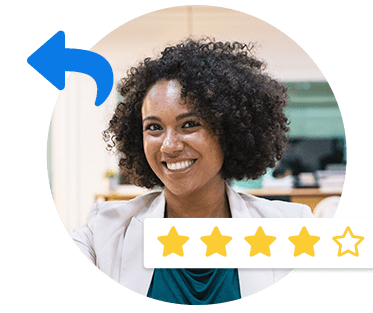 The idea of going above and beyond the customer's expectations is so ingrained in corporate culture that we seldom question its validity. Training, operational guidelines, and even the brand promise are shaped based on this principle.
Delighting customers is a worthy goal, but before your business organization sets eyes on making this notion a reality, it may just make sense to start building your brand reputation around the basics. That is, a business is far more likely to thrive if everyone with a vested interest in its growth first focuses on getting the basics right. Delivering, therefore, should always take priority over delighting.
Define Your Basic Promise
This is a simple premise, but one that many business leaders neglect.
Having a full understanding of what it is that you will deliver to every customer – and making sure everyone across the organization knows about it – is essential.
Lack of consensus about the basic brand promise often results in employees and processes that fail to deliver key products or services, resulting in customers feeling short-changed when assessing the value of their experience.
Ask questions about what, who, and when, to create a clear picture of what it is that your business is set to deliver to every customer. Spend time and make efforts creating awareness among each and every employee, to ensure everyone is making a concerted effort to align what they do with what the customer expects.
Oftentimes, businesses have to jump into excessive and costly remedial action that is guised under the idea of exceeding expectations, simply because the organization as a whole is failing to deliver on the basic promise. 
Create a Clear Marketing Message
What your customers expect from you is exactly what you offer. If your brand and marketing message do not have clarity, then your customers will either be misguided, or they will shape their expectations without a clear reference provided by you.
Once you have identified and documented what you are all about, make sure that your marketing materials do not over- or under-promise. Tell the story as it is, and deliver a customer experience that clones your marketing message.
This principle of business management, while simple, is seldom correctly implemented or refined as products and services evolve. Smart business organizations make it a point to audit and adjust their marketing message at least biannually, if not more often.
If your marketing message is inaccurate, then you will impact the customer experience, often losing the customer forever, but not without having first received a damaging negative review highlighting how your product or service did not meet the set expectations.
Reduce Customer Effort
Step away from the conventional belief that customers need shiny things. If your business focuses on doing core tasks to perfection and removing experiential barriers, resulting in seamless experiences, rest assured that all customers will begin perceiving you as an organization that delivers the goods without effort on the part of the customer.
Make sure your standard operational procedures are refined to the point where customers encounter minimal friction from beginning to end. Now more than ever, if you want your business to stand out, the secret rests in ensuring every customer receives consistent products and services every single time. This approach is relevant to customers with a busy lifestyle that would rather pay more than having to deal with procedural or experiential barriers.
Train Frontline Employees
Whether your business provides a core service such as plumbing, or a luxury product like fine dining or gourmet coffee, the basic principles remain the same.
Very few of your customers will engage with management, and most likely all of them will have direct contact with frontline employees.
To succeed in creating a business model that is conducive to repeat business, you don't need to do amazing things, but you do need to make sure that everything you do is done with accuracy, repeating an equally good experience for each customer. 
Commit to Getting the Basics Right
Now more than ever, many businesses make the mistake of taking the compensatory path when things go wrong, instead of building and maintaining a commitment to getting the basics right.
The best thing that you can do for your business is to daily reinforce the commitment to knowing the basics and getting them right. Create functional checklists, and make it second nature for team members to know and deliver everything that the customers have come to expect. 
Learn About Your Shortcomings by Asking for Feedback
At the very heart of your business and customer experience strategy, you need to prioritize the voice of the customer. Without it, you will never know where you stand in relation to customer satisfaction and brand loyalty.
Successful businesses make getting the basics right the cornerstone of their strategy, and they are always refining their approach by using customer feedback to align their product to the desires and expectations of those willing to patronage their business.
There are many third-party websites that equip you to request customer feedback. In addition, you can incorporate a Net Promoter Score survey, paired with extended feedback, to your overall business intelligence strategy.
The NPS can help you secure metrics that help measure how you are doing in terms of customer satisfaction, and aid in contextualizing feedback by isolating the customers that are most at risk of going to the competition. Early feedback capture and customer follow-up protect your business from negative reviews and allow you to fix customer escalations before the customer is inclined to share it with their circle of influence. 
Go Above and Beyond, but Only When Ready
If you already have the basics under control, then don't stop there. It is OK to go the extra mile and find ways to delight your customers by delivering goods and experiences that are relevant and memorable. Businesses that do go the extra mile are often the talk of the town and are able to quickly grow their online reputation and visibility.