Download 43 free review response templates for negative and positive reviews
Get the templates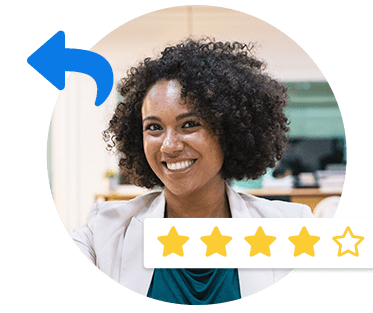 Business leaders across all industries have come to recognize the importance of having profiles or business pages on online review sites – profiles that are content-dense, contain fresh reviews, and have outstanding star ratings
The truth is, many small to medium businesses depend on these types of sites for exposure and incremental business. That is enough to keep customer experience strategy as well as review-based marketing at the top of their to-do list. We are frequently approached by our clients with questions and need for clarification and direction in the area of how to generate more (positive) reviews.
Generating online reviews
Oftentimes, business owners receive, recognize, and appreciate accolades from their customers that happen either verbally or via more traditional channels.
When businesses are inundated with kudos but are struggling in the area of review volume and review velocity, they need mechanisms to convert a thumbs-up into a valuable online review, with the potential of increasing their marketing visibility and strengthening their credibility, thus generating new business relationships and reinforcing their brand among loyal customers.
If you are among those struggling with getting your best customers to talk about your business through channels that give you the most exposure and leads, then we want to take the time to share a few tried and true approaches that will energize your review site profiles by redirecting feedback to places where it counts the most.
Turning on-the-spot feedback into powerful reviews
If you are in a segment where there is ongoing face-to-face interaction with your customers, then it is not at all uncommon to receive something as simple as a casual thumbs-up. You may also have customers who take the time to reach out to you or one of your team members to provide rich, encouraging feedback about their experience.
In that moment, you have a unique opportunity to guide the conversation with your customer. Through engagement, you have a variety of objectives, from establishing a more personal bond conducive to loyalty, to tactfully requesting an honest review by directing the customer to the third-party site where, according to your review and reputation strategy, the review is needed the most.
The key to requesting the review without sounding pushy rests in your ability to be relational. When you are engaging with your customers, consider the following principles of customer engagement and retention:
Be a superior listener. When requesting the review, highlight additional aspects or features associated with the areas or products your customers loved best.
Be relational. Find common ground with your customers, and don't make them feel like you are using them. Explain that the value of reviews to other consumers is the key motivator for online feedback.
Create opportunities. If the customers already have a great opinion of your business, then why not include them in your VIP list for special events and offers? A new experience will set the stage for you to ask for their honest online review, specific to their VIP experience.
Transforming internal feedback into 5-star reviews
As a manager of a business organization, you have probably received emails from valued customers that go from a simple thank you to a detail-rich note that provides an outstanding narrative of their experience.
If in your line of work this happens with a certain frequency, then you need to take advantage of the opportunity to redirect your customers to key review sites like Yelp and TripAdvisor. When responding to a written accolade, these are the best ways to redirect the customer to review sites of your choice:
Connect first. The first words you write when replying to an accolade should be crafted to create a personal connection and express gratitude. If customers feel appreciated, then they are far more likely to go the extra mile for you.
Go beyond a response. If the customer submitting the accolade via email or snail mail has provided contact information, such as a phone number, then consider picking up the phone and thanking him or her personally. This is also possible if you have a robust CMS that allows you to locate contact information for each of your customers.
Provide choices. If you are going to ask for a review, then don't point the customers to a specific third-party review site. Give the customers choices, and allow them to select the review site that is most comfortable and familiar to them.
Going beyond 140 characters
If you have been diligent and have had some level of success in creating a social following, then getting a shout-out via Twitter should not come as a surprise.
But the dynamic nature of Twitter content always results in quick depreciation of the tweets. Even the best of tweets celebrating what your business does best will soon be deprioritized by more recent content.
If you hope to bank on a positive tweet, then you must be quick to react and engage. The sooner you acknowledge the tweet by marking it as a favorite and replying, the easier it will be to direct the customer to third-party review sites.
If you deem it appropriate, send a direct message and politely request the review on a third-party site, giving some key suggestions based on your current needs for review volume. Consider following the customer and getting to know more about his or her preferences.
This is a good way to enhance your business intelligence and apply the knowledge to your overall marketing strategy. It can also be a means to connect with the customer and develop a more personal relationship that can eventually grow into highly loyal patronage.
Guiding Facebook promoters to online review sites
Facebook may be one of the easiest settings to funnel a positive comment and transform it into a powerful review. If you have not yet activated your Facebook reviews feature, then don't waste another minute.
Facebook reviews are powerful and are set up in such a way that those that like and follow you, and those visiting your Facebook page, will have immediate visibility of your most recent reviews as well as your star ratings. A quick reply to their comment to request their feedback via a Facebook reviews is all it takes to convert a comment into something more durable and powerful.
Funneling positive feedback to relevant review sites is easier when you have a strong customer experience strategy in place. It equips you to identify problems before they turn into negative reviews, and request reviews from happy customers whose experiences may help potential customers understand the depth and breadth of your offering.