Download 43 free review response templates for negative and positive reviews
Get the templates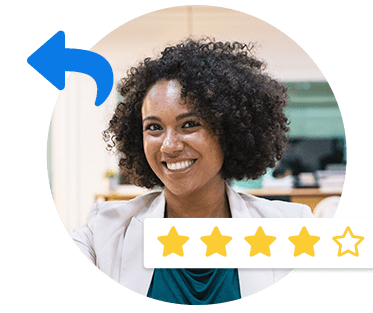 For businesses that hope to drive traffic to their storefronts by harnessing the power of local search engine optimization (local SEO), citation building is key.
What is Citation Building?
As one of the pillars of local SEO, citation building is the process of submitting your business information online — most importantly, your business Name, Address, and Phone number (NAP) — in order to develop your local search authority and improve your visibility on local search engine results pages (SERPs).
What is a citation anyway? "Citations" refer to mentions of your business name on the Web, along with other key information, with or without a link back to your website.
Citations are considered an important local search signal, and the quantity and quality of citations that you have can make a direct impact on your local search ranking.
Your citations can include listings on online business directories like the Yellow Pages and Citysearch, social media sites like Facebook, local search engines like Google My Business, Bing Places, and Yahoo Local, online review platforms like Yelp and TripAdvisor, local business discovery apps like Foursquare, or even local blogs highly associated with a particular city or geographic location.
Consistency in the way you provide your NAP and business location information is key to successful citation work.
Why Do Citations Matter for Local SEO?
When it comes to finding, researching, and discovering products, services, and businesses, consumers are turning to the Internet and search engines in ever-increasing numbers.
They're looking for information in the same way that people would have used the phone book (remember those printed yellow pages) decades ago to find anything from retail stores and dentists to plumbers and restaurants.
But nobody is going to look for someone to mow their lawn from three states away. This is why local search has become increasingly important.
If the online footprint of your business doesn't reflect strongly where you're located, you're not going to be considered an option by prospective customers looking for locally-based goods and services.
Building citations, complete with accurate listings of your NAP, can change that dynamic.
Citations Build Authority
In the world of search engine algorithms, authority is king.
Sites that are considered more "authoritative" when it comes to a certain keyword or search phrase will naturally appear higher up on search engine results. Naturally, you want your company to appear on that all-important first page of results.
Much ink has been spilled on developing strategies for increasing a site's authority. It's the core focus of SEO, after all, but as search engine algorithms continue to be developed, revised, and refined, the tactics that SEO professionals use to build authority for sites have evolved as well.
Nevertheless, the primary goal has remained the same, and ensuring that your business' citations are complete, uniform, and accurate wherever they appear on the Internet has remained a winning strategy.
How Citations Work
Citations are mentions of your business on websites that aren't your own.
Unlike links, citations don't need to point back to your website to work. Instead, the more citations you have across the Internet, the more authoritative your own business will be considered by search engines. This leads to your business being ranked higher in search listings than others.
However, in order for citations to work, they must be uniform across all instances. Even the smallest differences between one citation and another can result in them having less impact on your authority than they otherwise would.
This includes misspelled business names, incorrect phone numbers, and or differences in punctuation. In many cases, even abbreviating a street name in one citation but not abbreviating it in others will be enough to reduce authority in that particular situation. (See also: "Wrong Business Information and Poor Reviews Drive Customers Away.")

How to Keep Your Citations In Order
There is a multitude of opportunities to have your company cited.
There are business directories, social media sites, review platforms, even blog posts and other similar sites, all of which can provide excellent resources for building search engine authority. Keep in mind, though: the more citations you have, and the further they're spread over the Internet, the more burdensome it becomes to ensure that they're all accurate and up-to-date.
Citation tools for local SEO: There are several different citation tools available, many of which are free or very modestly priced, that help you wrangle your citations.
These tools can search online for you, identifying places where your citation isn't uniform or where it's missing, making it easier to target your approach to building and managing your citations. These citation checkers and citation finders can often be enough to keep your citations organized and in line, especially if you don't have a large volume of citations to manage.
Tools for Local SEO and Citation Building
Manual citation checking and finding, even with the aid of simple but effective tools, can still be a major time sink.
If you're trying to concentrate on the day-to-day challenges of running a business, you're likely already stretched thin. Having to spend hours typing your NAP into text boxes is going to eat into your time and energy. It's enough to drive anyone mad.
Thankfully, there are even more advanced services that will take care of your citations for you completely, with little to no input on your end. These bespoke citation tool services can sometimes be worth a pretty penny: sometimes ranging from between $2 to $10 a month per citation to be managed. But the time and energy savings can be significant.
Such advanced services are highly recommended for business owners who don't have the wherewithal to hire full-time local SEO staff but still want to ensure their local search rankings are in good shape.
Never Underestimate the Value of Citations
Ensuring your citations are accurate and uniform – and that they're spread across a wide variety of sites – works in your favor.
The more you get your name out there, the more likely you are to appear prominently in local searches by consumers.  This can lead to increased business volume, allowing you to build on your successes and flourish, unlocking the potential to grow your company further in the future.
Long story short: citations matter. Without them, it becomes an uphill battle to get noticed on the Internet when it comes to local searches, and you're not doing yourself or your business any favors by flying below the radar. Make sure you pay attention to the status of your citations if you want to be successful.