Download 43 free review response templates for negative and positive reviews
Get the templates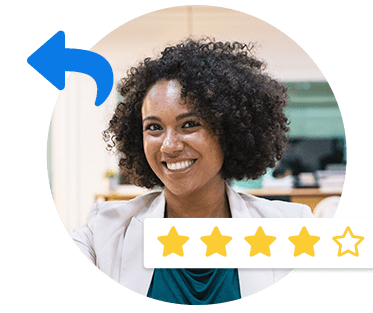 Fancy TV commercials and pitches by car salespeople just won't cut it anymore. In today's wired new economy, online reviews written by real customers serve as one of the most valuable research tools and sources of information for car shoppers.
According to

research

by Cars.com, 91 percent of consumers rely on online reviews when choosing a dealership.

In an eMarketer report, 14 percent of car shoppers

admitted

that online reviews were the only reason for their decision to visit a dealership.

Car shoppers are also 5.3 times more likely to become a lead when dealers have positive reviews, or an overall rating of 3.5 stars or higher,

according

to DealerRater. Also, 90 percent are more likely to visit the website of a dealer with a strong online reputation.
For automotive dealerships, staying on top of online reviews and public customer feedback is a must. But at a time when the number of feedback channels continues to grow at alarming rates across dozens of review sites and community-based automotive sites, how exactly can a dealership — let alone a manufacturer with hundreds of dealerships — keep track of what buyers and shoppers are saying online?
Case study: Major Automotive Manufacturer
One of ReviewTrackers' clients — a major automotive manufacturer with over 600 business locations — understood early on that customer feedback could help foster improvements and drive dealership performance. In fact, the company had a system in place for collecting feedback through a series of surveys, the results of which were shared internally, among corporate management and dealership GMs.
This system, however, did not cover public feedback on online review sites like Cars.com, DealerRater, Edmunds.com, or even Yelp. As these sites grew in influence and reach — shaping the decisions of car shoppers hungry for information — the company decided to leverage ReviewTrackers' software platform to more effectively manage their reviews and reputation.
In this case study, we examine more closely:
How an enterprise-level organization with hundreds of dealership locations can monitor, manage, and respond to customer feedback across all major review sites, including those specific to the automotive sector;

How comprehensive feedback monitoring can help identify and resolve service or operational issues in corporate and franchise environments;

How corporate management can leverage customer feedback in ways that drive performance improvements and bottom line objectives;

How major brands and third-party agencies can collaborate in building and managing online reputation;

How a technology-enabled review management strategy can be tailored to generate more five-star reviews and positive feedback, while also minimizing the negative impact of bad reviews and low ratings.