If you are in the food and beverage business, then a significant portion of your leads and referrals are more than likely originating on the Web.
This knowledge has resulted in a thriving online marketing and SEO industry specifically focused on helping restaurants, big and small, improve how and when they show up online in response to specific search engine queries. Online marketing costs for restaurants can range from 2 percent of their gross revenue to as high as 20 percent for highly competitive markets.
A significant portion of online marketing budgets, whether handled internally by the restaurants or outsourced to an agency, is allocated to search engine optimization efforts. The final goal is to show up when potential diners are looking for restaurants based on characteristics such as type of food, geographical location, cost, or qualitative adjectives such as "best" in combination with any of the aforementioned characteristics.
These types of searches are considered high value when it comes to customer acquisition. Our local SEO research most searchers will visit a business with 48 hours of searching for it.
When we think about search engine optimization, we generally do it with the idea of making the homepage of a particular business rank or show up in search in response to a set group of keywords. But what if there was a way to expose searchers to your restaurant, fully independent from conducting traditional search engine optimization efforts on your homepage?
If you own a restaurant or any type of food and beverage venue, then we have good news for you. Presently, you can gain visibility on high-value searches without ever resorting to traditional SEO practices, allowing you to focus on your online reputation and review management strategy.
Grab a chair, and let's take a look at a few numbers. The table below captures the number of searches conducted every month for ten different cities as well as the current approximate bid to position your site using Google ads (also check out the screenshots that follow):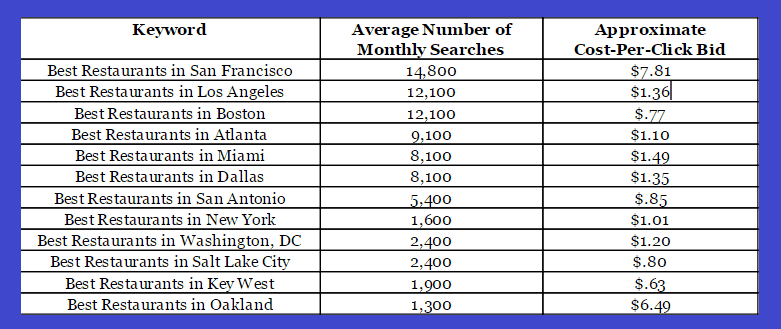 A quick look at the above costs is enough evidence to convince anyone in the restaurant industry of the importance of showing up organically in search as a more sustainable and affordable way to bring patrons in the door and keep their tables full.
When we conducted searches for the markets listed above, all but one search served results that highlighted the Google My Business profile for top restaurants based on the Google reviews ranking, instead of individual restaurant pages or popular review sites. Additionally, it is worth noting that only 2 out of 12 markets displayed Google advertising above the fold. From this research, we can draw some conclusions:
Your Google My Business profile is a must-have and no longer optional. (Check out how to claim your business on Google)
You can shift from optimizing your site to growing your online reputation and obtaining superior lead generation and online visibility.
The rewards are worth the effort when you engage your patrons using Google tools.
Paid advertising may not be where you need to allocate your budget.
Potential customers depend on your Google My Business profile being accurate.
Your Google My Business Profile Is a Must-Have and No Longer Optional
If we can learn one thing from this exercise, then let it be the value of activating, managing, and engaging with your customers using the Google My Business tools.
Take time to study those with dominant, high-ranking listings, and follow their breadcrumb trail.  Activating your Google My Business will significantly impact how searchers find you and how they engage with your restaurant. Features such as directions via Google Maps/ Google+ Local and one-click calling will remove interaction barriers between you and your potential patrons.
It is worth noting that while Google discourages review solicitation, they are not opposed to more subtle but direct approaches such as encouraging your most valuable customers to engage with you using Google My Business, and potentially reviewing your restaurant should they feel inclined. You can read more about it here.
Shift from Optimizing Your Site to Growing Your Online Reputation
If you feel like your race to rank has been uphill all the way, and SEO has proven pricey and slow, then focusing on growing your online reputation may just be what you need to gain ground and visibility quicker, and in a more straightforward fashion
To paint you a simpler picture, moving to the top of search results via your Google+ business page is as valuable, if not more valuable, than having searchers find your site. Consistency in look and feel, credibility supported by user reviews, and easy tools to connect are among the many advantages you will experience by having your business show up as a Google listing.
Working on a reputation and reviews-based marketing strategy by shifting resources from on-page SEO has the added advantage of giving you better tools to measure and track your ROI. The numbers don't lie. Working on growing your Google reviews is a move you don't want to neglect.
Worth the Effort to Engage Your Patrons Using Google Tools
To think about Google My Business as only a tool for review collection is to do a disservice to your business by not taking advantage of the full potential of this free service. Explore ways to engage your patrons and potential patrons by taking other Google My Business-based actions such as improving your multimedia, blogging, posting directly on your Google profile, and taking the time to respond to reviews and engage with your Google+ followers.
Paid Advertising May Not Be Where You Need to Allocate Your Budget
There is a time and place for bidding on Google advertising, and this may not be it. With only two out of ten sampled markets displaying Google advertising at the top of search, the decision to move forward with advertising needs to be carefully analyzed against a variety of metrics.
If your restaurant is currently experiencing significant growth and has a well-established reputation, then you may just be better off working on growing your review base instead of purchasing visibility. On the other hand, if you are just starting out from zero or a very limited number of reviews, then certainly take a look into advertising.
Potential Customers Depend on Your Google My Business Profile Being Accurate
Because Google provides searchers with a variety of tools to connect with your restaurant, accuracy of your businesses' listings is of the essence. Take time to make sure your address as well as driving directions are correct and GPS-responsive. Ensure the phone number associated with your profile is one that is answered by a live person instead of a voicemail. Take time to confirm and update your business hours, policies, and pricing on menus.
Lack of accuracy can become a customer-service issue that will, on occasion, escalate into a full-blown soap opera. Do everything in your power to be accurate and detail-rich, setting clear expectations of what your patrons will experience at your venue.
In sharing these insights with you, we are not suggesting that you abandon other marketing strategies; rather, our goal is to provide you with yet another avenue to reach new customers and grow your business. Reputation and review management has tremendous untapped potential. It is up to you to decide how much you want to get from it, and be hands-on when it comes to positioning your restaurant as a customer's favorite.