When consumers today look for information about a business, they usually do it with a local intent. More often than not, they're out to find what's in the neighborhood: the best Persian restaurant that's in walking distance from their office here on East Erie in Chicago, as opposed to some random kebab joint in, say, Estonia.
To find these places, consumers are leveraging more local media sources than ever. Why? Because habits are evolving along with the technology. Sure, people still look up search engines, print yellow pages, and even store circulars. But they're also relying increasingly on newer sources like Internet yellow pages (ex: YP.com and CitySearch), social networks (Facebook and Foursquare), and online review sites (Yelp and TripAdvisor).
(Check out: "Why Local Business Reviews are the New Word of Mouth")
The emergence of this broad array of local media offerings is highlighted in a new research study by the Local Search Association, entitled "Local Media Tracking Study." Conducted by Burke, Inc. for LSA, the study surveyed over 8,000 US adults on their use of local media sources. Let's check out some of the highlights:
Yellow pages – both online and offline – can still deliver quality leads. Here are some numbers: 73 percent of respondents have used them in the past year. Fifty-five percent of people who searched Internet yellow pages eventually contacted or visited a local business, while 76 percent went on to make a purchase. The takeaway? Yellow page users act quickly following their search. It's therefore essential that your business is listed in all major yellow pages and local listings, because these are the places where you can connect with consumers who are ready to engage and, potentially, make purchase decisions.
Use of online review sites and business ratings aggregators is rising, too. Sites like Yelp, TripAdvisor, and Google+ Local are also attracting high local traffic, with 75 percent of respondents saying they've used their computers and laptops to search these sites for local businesses. This makes it a priority for business owners to monitor and manage online reviews.
Mobile – searching with smartphones/tablets – is increasingly preferred by those who are ready to buy. The LSA study showed that majority of consumers still use their computers and laptops when they're still just looking for local information. When they're ready to buy, however, they take their pick between smartphones and tablets. Online purchases made via smartphones increased to seven percent while tablet-enabled online purchases jumped to 13 percent.
So what do all these numbers mean to business owners? Well, for one, it's important to continue to secure visibility in traditional media sources like search engines, local business listings, and yellow pages. It's equally critical, however, that you take a more active role in reaching consumers via new media sources, like social networks, business ratings aggregators, and online review sites.
For more numbers, check out these fancy infographics below: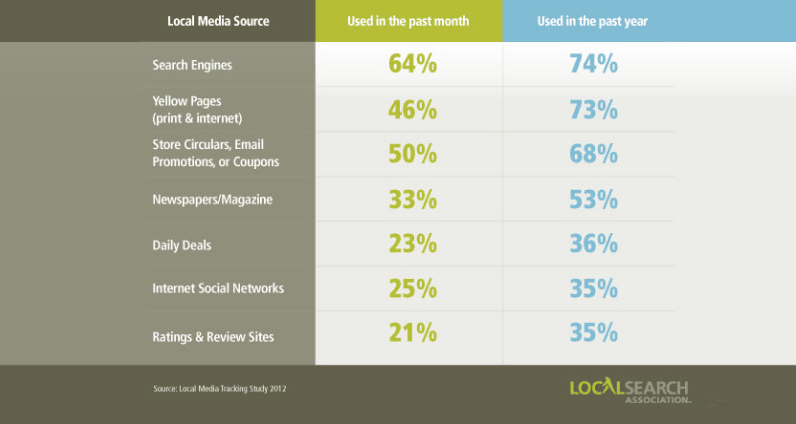 (Infographic credit: Local Search Association)