Download 43 free review response templates for negative and positive reviews
Get the templates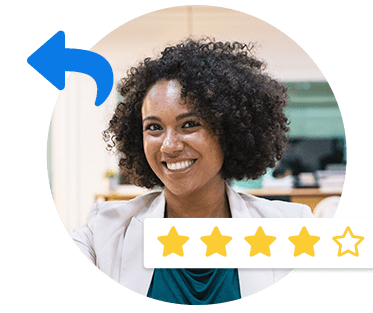 A little over a year ago, many technology leaders sat together in a panel at SXSW to discuss the importance of design as the only controllable element when creating or enhancing a social community within a website. (You can review the slides of this panel by clicking here.)
The discussion panel was both interesting and engaging, but it neglected to address a more global problem: the problem lies in the power placed in the hands of reviewers, and how their opinions, once unleashed, can make or break a business. No company is immune to this. Every business stands to take flak or flattery from customers as long as there are barrier-free environments to capture it.
Managing the torrential volumes of content generated by consumers and making them usable is, without doubt, a monumental task. While some enterprises may have included social communities and interfaces for user-generated content within their own websites, content associated with their products or services is mostly hosted in platforms outside their control. These external platforms, by virtue of their popularity, have pretty much monopolized consumer opinion.
(Check out: "6 Tips and Tricks to Get More Check-Ins – and Reviews – for Your Business")
Having no control in these platforms over the flow and moderation of user opinions might, at first, create a sense of impotence, as companies attempt to draft long-term business plans based on traffic and scores generated by these environments. While everything points to the contrary, there are still practical steps companies can take to harness online reviews and customer opinions and manage their strategies.
For businesses whose performance is highly dependent on review sites like Yelp, TripAdvisor, Urbanspoon, Google+ Local, YellowPages.com, there are practical business-savvy implementations that can help you take ownership of highly dynamic, pseudo-chaotic data.
Centralize and Consolidate
Regardless of business size, the volume and erratic pattern of consumer voices can easily drown and overwhelm. Almost daily, new websites and apps are launched with the hopes of capturing a slice of the cake of consumer opinion.
The first step to effectively manage consumer-generated opinions is to capture 100 percent of the opinions in a format that is efficient, focused and conducive to easy data management. Not only can a review management and reputation monitoring tool like ReviewTrackers capture the totality of data available on the Web, it can also provide user-friendly, actionable reports.
Unusable data is sometimes worse than no data at all. The goal of smart enterprises that wish to embrace and utilize consumer voices is to set a strong foundation and put systems in place that capture not only a sample, but also the totality of opinions.
Centralization is not exclusively a matter of tools and technology. To effectively manage and utilize reviews and opinions from a customer base, companies also need to assign the task to a single department charged with consolidating the data. Reports are disseminated based on their application to each department or division. By isolating department-specific concerns and removing noise, companies equip specific divisions to make quicker, more efficient improvements.
Establish Milestones and Metrics
Once an organization has identified actionable categories, the next step consists of using the data constructively, with the aim of establishing a baseline and seeking to make improvements.  Milestones can be associated to the volume of social engagement, or to qualitative measures, such as improvement in scores or star rating.
As for metrics, enterprises should establish evaluation cycles that are sensible to the speed of review generation. Failing to provide a reasonable timeline for improvement based on the pace of review tracking often results in discouragement for individuals and departments as a whole.
Voice Branding Across Platforms
While businesses have no control over the opinions expressed by their customers in social platforms and review websites, they do and should exercise control over their brand voice across ALL channels.
This takes us back to centralization and consolidation. Smart, proactive business units and enterprises thrive because their online customer engagement is consistent. This means all policies and practices associated with escalation, resolution, remedy and compensation are aligned with policy, and that they value each customer equally.
These practices should not be exclusive to negative feedback. Successful online marketers celebrate, recognize and embrace positive feedback. At the end of the day, the goal of voice branding is to bring back a pattern of order and continuity to environments that can be otherwise chaotic. When a brand engages with its customers on online social opinion platforms, it is essential to be consistent, have tone continuity, be truthful and be customer-focused. These four principles are integral in increasing online credibility.
Partner, Participate and Go Premium 
When it comes to review management it is often forgotten that communities hosting opinions exist for a reason. They are there to generate profit by providing a service of perceived value. Every effort should be placed in understanding the ins and outs of each platform. By having a handle on their rules, organizations can maximize their engagement and take their online customer engagement practices to the next level.
When applicable, and if it makes business sense, it is sometimes a good call to secure premium level accounts with these vendors that provide additional functionality in the way that companies engage with the reviewers. Finally, a consideration should be made to utilizing a portion of the advertising budget and funneling it to feature a product or service in the same context as the consumer-generated opinions.
A year has passed since the topic of User-Generated Chaos came to the light. Thanks to great thinkers and innovators at SXSW, the ideas discussed in this panel have been catalysts to change, resulting in improved usability in many of the most commonly used consumer review sites. We have noticed increased consolidation, new partnerships and acquisitions, and great implementations. Now it is up to marketing leaders and strategists to do their part in bringing order from chaos.