There are different stages of the work process, and those stages require different types of external environments for focus, says Marilyn Puder-York, psychologist and executive coach.
That's why the variety of work rooms – quiet rooms, open areas, rooms to collaborate, and low-level noise rooms – is a vital component to any office that seeks to create a productive culture and foster employee well-being.
Puder-York says that from her experience, the need for these work rooms stem from the various stages of peak performance, and the rest points where one is processing information.
"Sometimes the mental, creative, and neurological work of developing one's ideas, one's thoughts, one's plans – whatever that person's job is at that moment in time or that person's task – that might really take a huge amount of separating and detaching from the external world and focusing on either what is in one's brain or in reading research or other things," she says. 
"But one may need to detach from the distractions of the outside world in that developmental phase where one is actually forming a plan or forming an idea, or forming a goal or a task, or whatever it might be." 
Here at ReviewTrackers, we have different types of rooms for an individual's different stages of work.
Quiet Room
Niki Griggs, marketing associate, says she needs a variety of work environment options throughout the week. She says uses the quiet room for when she needs to think deeply.
"Because it gets away from all of the noise and collaboration that goes on outside of the office," Niki says. "My working style needs more variety. The room helps me to have quiet when I am doing something that requires a lot of cognition. It's easier to think when you're not around everybody all the time."
Mandy Yoh, head of communications, says the quiet room is a place where she can focus.
"It is a place to really focus and hone in on the tasks I want to knock out," she says. "It's always great to be around your team and to brainstorm, talk through solutions, but the quiet room helps give me a clearer mind to focus on the tasks at hand."
Mandy adds, "The ambience of the room (darker with white noise and the purpose of the quietness) is crucial."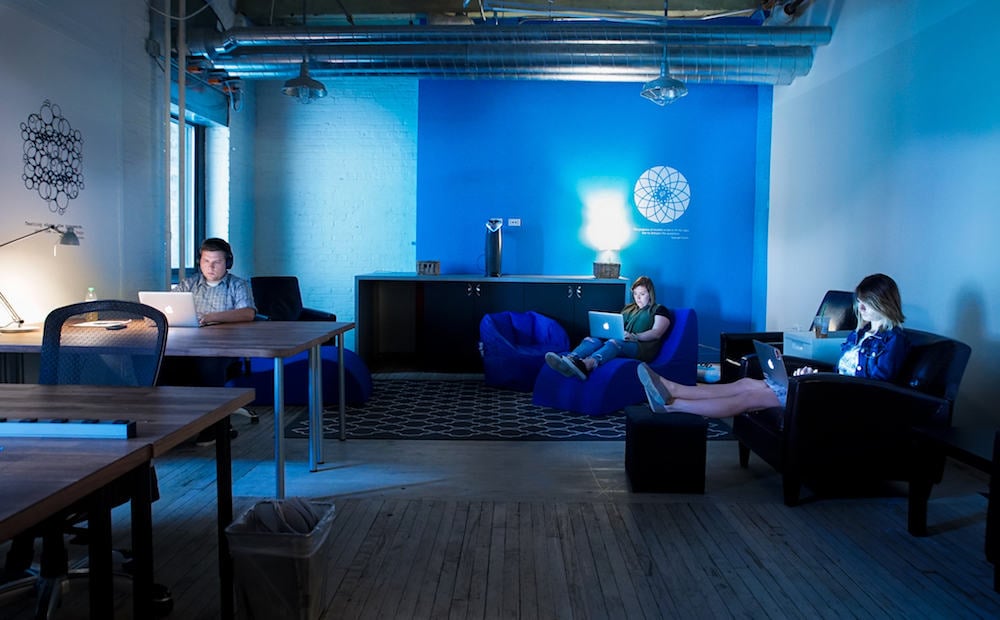 Open Office Space
The main area of the ReviewTrackers office is open, and it's the space where individual assigned desks are located for each team member.
Andrew Platkin, senior engineer, says the open office space allows him to collaborate with other departments.
"I think the open space offers the ability to quickly speak to any stakeholders to resolve a customer bug or understand the business case of some new functionality we are implementing," Andrew says. "Though it gets a little noisy at times, I tend to wear my headphones anyway, so the noise is not that noticeable."
In addition to the open office space and quiet room, ReviewTrackers also provides individual breakout rooms that can be scheduled for small meetings and phone calls.
Breakout Rooms, Various Types 
Meredith Lanan, sales development representative, says she benefits working in the breakout rooms because it gets her away from the distractions that come with an open office environment.
"With the open desk plan, it can be easy to lose focus and you need a place to unwind," she says. "The breakout rooms are perfect for that. You can reserve one for 30 minutes or a few hours and really focus on your work."
Meredith also uses the breakout rooms for meeting up with peers. She says, "There are many times within the week where the sales team needs to group up, especially sales development representatives. We are constantly working on scripts with others, or working on our sales homework, LearnCore. They provide a great setting for collaboration and creativity. In addition, we practice cold calling in those rooms, which is much easier and quieter than practicing out in the open."
While the breakout rooms give Meredith an opportunity to work in an environment different than the open office, she says she would like to have different spaces for different periods of her work, like an open conference room that allows for talking.
"I love the breakout rooms," she says. "I wish we had more, honestly. Personally, it would be great if there were large rooms for individuals or those who just want to work. The quiet room, for example, is fantastic for focusing on e-mails, but as a sales rep, it's not an ideal space for a cold call."