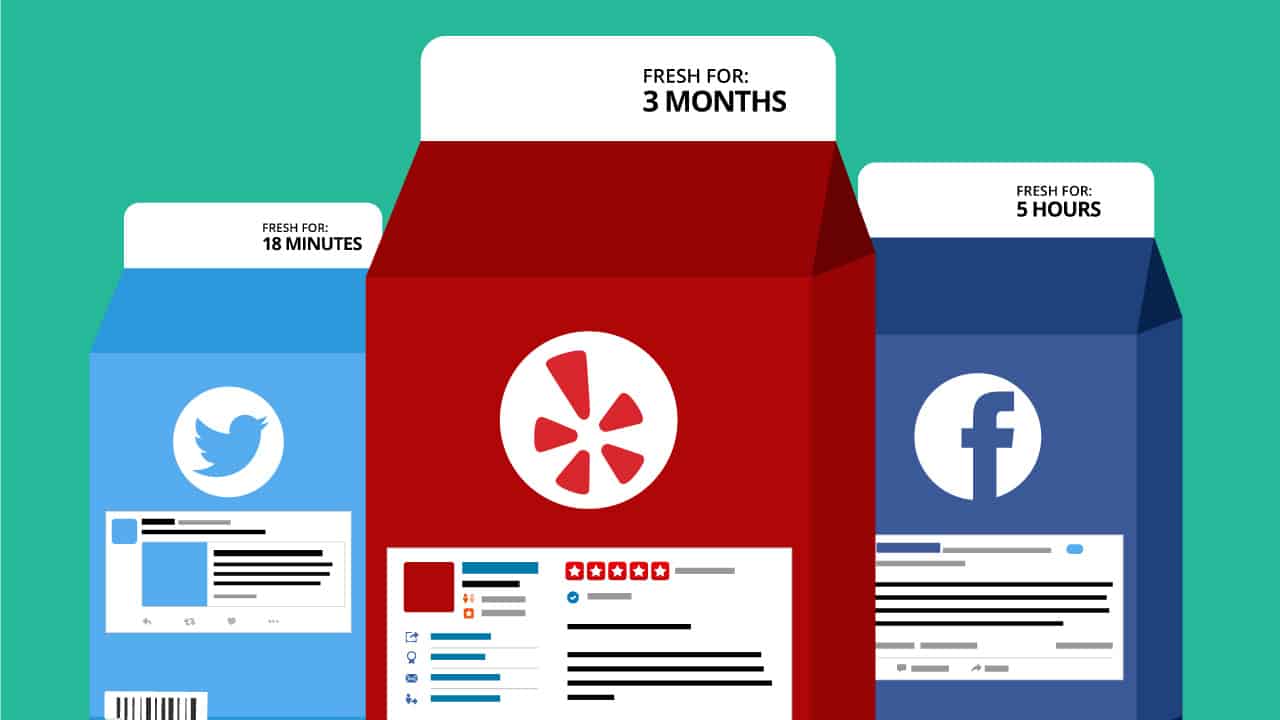 Here at ReviewTrackers, we believe in online reviews and customer feedback as an important source of learning for all kinds of businesses — from SMBs to enterprise-level organizations with hundreds or thousands of locations.
We also understand the many ways reviews can generate critical customer data and intelligence, which in turn can equip organizations with the information needed to make smarter business decisions and drive more sustainable growth.
Simply put: online reviews are incredible data assets that can provide great ROI for multiple departments across your entire organization.
One great way to demonstrate the value of reviews as data assets is by comparing the shelf life of review data to that of social media content, such as tweets and Facebook posts.
Shelf life of online reviews
According to

research by Search Engine Land

, 69 percent of consumers believe that

reviews older than 3 months

are no longer relevant. Approximately 15 percent, meanwhile, believe that the only relevant reviews are the ones written within

2 weeks

.
Shelf life of tweets
According to

research by Moz

,

18 minutes

is the median lifespan of a tweet. A similar

study by GaggleAMP

, meanwhile, found that 92 percent of engagement with tweets (impressions, clicks, shares) occur within the first

48 hours

of posting.
Shelf life of posts on Facebook
A

study by Wiselytics

revealed that 75 percent of engagement on a Facebook post occurs within the first

5 hours

. Reach is even worse: 75 percent of the people who will get to see your Facebook post will have seen it in the first

2 hours

.
From one research study to another, the numbers vary, but it's safe to say that the shelf life of online reviews is (much) longer than the shelf life of tweets and Facebook posts.
Key Insights
Online reviews have greater reputational impact than social media comments. You simply cannot ignore reviews, especially if you are looking to build and protect your brand reputation.
To your audience, what a customer said on Yelp or TripAdvisor two weeks ago is likely to carry more weight than what another customer said on Twitter or Facebook two days ago.
So invest in resources that will help your organization manage customer feedback posted on online review sites, instead of merely focusing your listening and monitoring efforts on social media channels.
Using Hootsuite for social listening? Install the ReviewTrackers app integration to manage reviews from your Hootsuite dashboard.
The freshness of your reviews — and the pace at which you generate new ones — matter. Review velocity and freshness help your brand stay relevant. This is why you should proactively encourage and request online reviews and customer feedback.
Make this part of your long-term strategy, and not simply a to-do item that you can tick off one week and forget the next. You don't want just positive reviews — you want positive new reviews, consistently generated at a pace that addresses the needs and expectations of your audience.
Review management can bolster your customer service strategy. A great number of brands are already using social media as a customer service platform — responding to inquiries on Twitter, replying to comments on Facebook, addressing questions posted on Instagram.
But your audience will also be paying close attention to how you handle complaints, issues, and expectations voiced by customers on Yelp, Google, and TripAdvisor. Make responding to reviews as big — if not bigger — of a priority as responding to tweets and Facebook posts. Staying highly engaged on both review channels and social channels positions your organization to deliver better service and achieve greater success.  
Integrating reviews can help maximize your social media ROI. More often than not, consumers who are about to make a purchase decision will look to engage with review content. So let them.
On Twitter, share your brand's best reviews. Or post a link that facilitates the generation of new reviews. This won't necessarily extend the shelf life of your social media content, but it does drive engagement at key points in the customer journey, as well as encourage other customers to share their own feedback.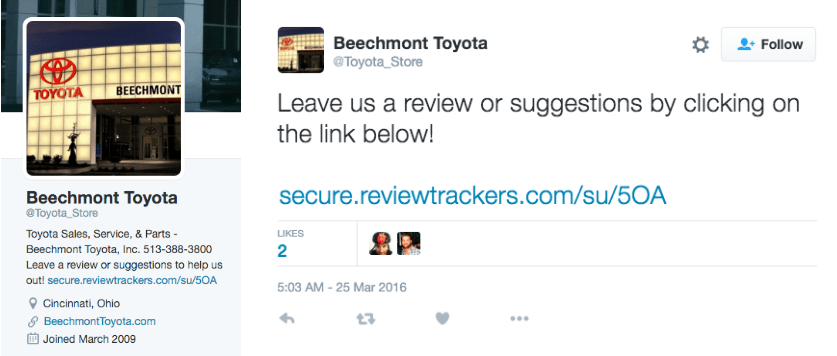 On Facebook, the first order of business is to enable the Facebook Reviews feature. The impact of likes, shares, and comments on your page will dwindle over time faster your customers' reviews — not to mention, the Reviews tab will remain, by default, on your page.
Facebook also has a new Professional Services feature, which lists down businesses with the best reviews and ratings (by category). The lists are designed to guide users looking to discover new products and services in their geographical area. To be sure, a high ranking on Facebook's Professional Services list will create more meaningful opportunities than a post on your page can.   
Our team at ReviewTrackers actually analyzed online reviews of 250 restaurants over a 6-month period, and we noticed an interesting trend in review velocity: among major restaurant review sites (including Yelp, Google, TripAdvisor, Zomato, and Foursquare), Facebook reflected the highest growth rate in reviews, with new reviews coming in at a pace that's  4 times faster than on other restaurant review sites.
By leveraging online reviews as data assets, you can enhance the value and ROI of your social media investment and improve the relevance of your brand's social presence.
We're not saying your organization should stop sharing, listening to, and managing tweets and Facebook posts. Please carry on! But realize that online reviews and customer feedback are even more valuable. Given their longer shelf life, as well as their unique ability to serve as a source of critical data and insight, reviews should be embraced as an essential part of your corporate infrastructure.