There is a very simple explanation behind Google's recent announcement to split its desktop and mobile index.
Today, most people are searching Google using a mobile device.
On this relatively new medium, people are searching for answers to their queries on small screens with limited cellular data. At the same time, searchers have higher expectations of a prompt and concise user experience. These new, mobile-only searchers are interacting with the SERP (search engine results page) in a fundamentally different way than on a desktop and the implications for your business can be drastic.
Snippets, AMP, and local map packs are changing the way SEOs think about page number one on mobile SERPs. The content that was designed and optimized for desktops will look different than content on mobile. Google knows this and is changing the rules. In addition, the shelf life for content could be reduced to hours instead of days.
This move by Google to create a separate mobile index is big news. But the fact that Google will use this mobile index as the new primary index will forever change the future of search engine optimization.
In this guide, we'll cover:
Feel free to click those links to jump to the part of the page that is most intriguing to you. However, it is important to start at the beginning. How did we get here?
A Short History of the Google Index
For starters, let's clarify the language. When we say "index" or "indexing," we are describing the process of collecting webpages into a Google search. Indexing is the act of collection and "index" is the collection itself. The secret of Google's success is the Google Search Index, which is their own collection of easily-searched and well-organized web pages.
You could think of this as "the Internet" and you wouldn't be very far off. Marketers and researchers have a pretty good idea of how the current Google algorithm ranks websites. It is remarkable that this simple idea of linking correlation has spawned entire industries. It even has its own weather forecast.
There have been updates to the Google algorithm. Lots and lots of updates. But one thing has been the common denominator through all of these updates. The user experience of the Google search has improved consistently each time. Google knows that their dominance in the search engine industry is only as good as their results. Each time Google updates, they do so to improve the experience. This ensures that the searcher comes back to Google, which increases the number of times these searchers click on Google's advertising. Google likes these clicks the most.
The Searcher's Experience
So, we believe we have a solid grasp on the fundamentals of the world's most popular search engine.
Google likes clicks.
Clicks come from searches.
Searches come from happy users.
With that, we can also easily understand Google's motivation to move to a mobile index.
Around

56 percent

of consumer traffic to the leading US websites is now from mobile devices.

90 percent

of the time spent on a mobile device is spent in an app, not in a browser.

Mobile-local searchers are buying things.

80 percent of local searches

from a mobile device convert.
Smart marketers know that mobile everything is the future. But the Google we know and love today works. So what exactly is the issue? Why the switch?
Well, first, mobile pages might have less content. Right now, the Google algorithms are not evaluating the actual page that is seen by a mobile searcher. Instead, it is showing a mobile version of the page, which usually contains less content. Remember the small screen — the decrease in size and resolution? The amount of content on a page has decreased, too. This creates a discrepancy between mobile search results and desktop search results. Since the mobile index will soon be the "primary" index, the desktop is taking a backseat.
The Upcoming Split
We don't know the full ramification of the mobile index split. There are many questions to which we simply don't know the answer.
Questions like: How recent will the desktop SERPs be? Obviously the motivation for the split is to improve recency and accessibility of content. Will the desktop index return older content? The only searchers still relying on desktop to search are those in a business setting.
Side note: For those B2B marketers using Google's display network to drive paid search, this new index most likely means more sophisticated audience targeting.
The most substantial change will likely be that by having a mobile index, Google can run its ranking algorithm in a different fashion across "pure" mobile content rather than the current system that extracts data from desktop content to determine mobile rankings.
For SEOs, the mobile index means a shift in best practices. These are the most important optimizations to focus on:
Work on your ranking signals as you currently are.

Using

Google testing tool

, make sure you have corrected any mobile errors on your website.

Do

mobile-focused

keyword research and content creation. Understand how your audience is researching on mobile, and with "near me" searches.
Here are some recommendations Google is giving webmasters to prepare for the change:
Mobile-only Snippets
The main reason Google is making this change has to do with what people are actually searching for on mobile. Searchers are used to getting a snippet when searching from the desktop. They have grown accustomed to the benefits of the knowledge panel. The problem then arises when searchers do not see the same snippets on a mobile search or do not seei the snippet content on the page once they click through.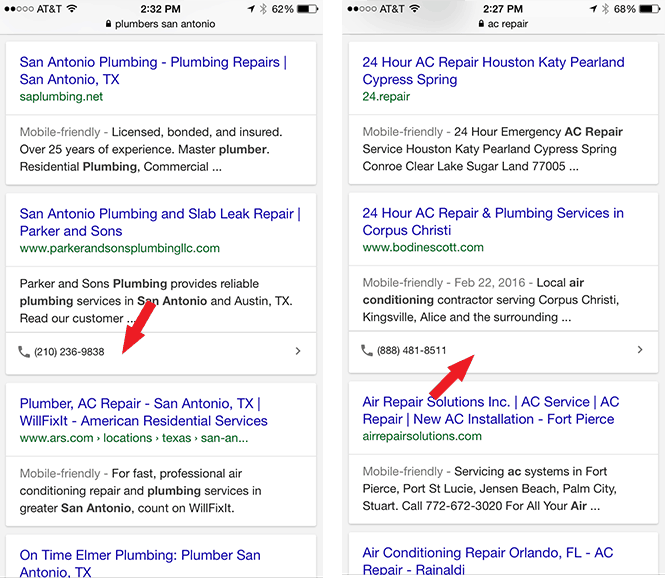 What this means for SEOs is that any content on desktop that doesn't exist on mobile may not be updated as frequently (we're talking hours here, not days) and may not have as much weight for ranking.
AMP (Accelerated Mobile Pages)
Most of Google users search from mobile devices and this trend continues to grow. Google's first solution for this mobile problem was AMP, or Accelerated Mobile Pages. These are web-based documents written in HTML… but not the normal HTML you're used to. With Google's AMP comes changes to tags, including some new tags for interactivity. 
Think of AMP HTML as the first mobile-first, web-based language for search. It was designed with mobile in mind and its purpose is web page performance. 
Local Map Packs
Last September, Google updated their algorithm again with Possum. This update represented an important advancement in Google's local search algorithm.
Local and mobile-local go hand in hand. Local searches occurring via mobile devices convert 80% of the time. Google recognizes it, too. Their own research into the "micro-moments" reveal that local searchers are heavily invested in the buying process and eager to convert. In fact, Google's research has shown that 50 percent of consumers who conducted a local search on their smartphone and 34 percent who searched on a computer/tablet visited a store within one day of the initial search.
Here are a few things you should implement on your website to increase your mobile visibility on mobile SERPs:
Include city and state in the title tag of your home page

Include city and state in the H1 heading

Add city or state in the URL of your location

Be sure to include city and state in content

City and state in the alt tags and

 meta description

Consistency across business Name, Address, and Phone (NAP)

Optimize your Google My Business listings.
As Google furthers their experiment with a mobile index, we'll continue to learn the new "best practices."
But it isn't too early to get started. Begin the process of making your website mobile-friendly, your NAP lock tight and your online reviews plentiful to improve visibility in the new index. Don't be the only marketer waiting for Google to make the official announcement.
Algorithmic Influences of the Mobile Index
Google

has stated that ~53% of all website users will abandon a page if it doesn't load in 2-3 seconds.
Back in April of 2015, Google stated that the pages without a mobile version would be penalized. And since there will be a priority for the ranking of webpages within the mobile index for mobile, this means Google's spiders will crawl the responsive page first and index it as though it is a mobile website. This might lead to Google creating better-performing search results and the overall speed might be increased as well.
A Potential New Paradigm Where Links Don't Matter
An interesting theory for the mobile-first index is the lessened impact of links. Links may become scarcer on responsive webpages as quality content takes precedence. What this does mean for certain is the links will either become more valuable than ever before or won't matter at all.
"Websites with lots of backlinks but mediocre content will suffer as Google's AI improves. " — 

Larry Kim
That's right, links might not matter. Google has already mastered contextual keywords and phrasing, phasing out the importance of keywords. Perhaps the shift to a mobile-index means the beginning of the end for the power of the backlink.
The Context of Geo
Geolocation and online reviews may hold a greater weight for "near me" searches. By connecting searchers with the businesses and activities that are most relevant to location, Google will allow these businesses to capture the result that is more rooted in the context of the search. Local searches have a greater impulse and immediate need for a product or service. Google is already tracking your physical location. This type of marketing allows local businesses to increase incremental revenue by helping customers find them through the use of mobile devices.
But how does this affect SEO? Does it?
Yes, SEO will be affected. Ranking signals will come from the mobile version of your web pages, not the desktop version. We knew this was coming due to the panic of Mobilegeddon.
What's really changing isn't the technical algorithms of Google, but the nature of searching.
Google is already ranking your desktop site based on many signals from your mobile site. This is a clear warning to webmasters that the searcher intent matters, and mobile-first was coming. If you don't have a responsive/mobile version of your site, your mobile searches are having a bad user experience. Optimizing your website's speed appearance for a mobile phone and making sure it loads quickly properly ensures your audience is achieving their goal of finding the information they are seeking.
Get Started With These Tips to Get Ahead
So now we know what's at stake. How can you prepare your site for this split? Everything SEOs have been preparing for, every organic search from the dominate device of the future, and every page one ranking depends on your ability to mobilize: literally and figuratively. No pressure. Here's where the experts say you should get started:
Find a Mentor:
For marketers that are just starting with mobile and local SEO, Katherine Watier Ong's first tip would be to find a mentor or a group of trusted SEOs that you can ping with questions as you get stuck. She is actually an SEO coach and has trained 16 young people. She helps manage the DC area Search Marketing Meetups.
There are plenty of ways to stay up-to-date with the mobile index, but having a good place to share ideas, learn best practices, and stay current is vital to success in the SEO industry.
Stay Updated:
Staying current and educating yourself on the importance of local SEO, Rankbrain and mobile indexing is a full-time job. Staying updated to the most relevant sources of information can be difficult. Tylor Hermanson, of Sandbox SEO, advises businesses to focus on a reputable source of information: Twitter.
"There's a ton of noise out there from gurus, ninjas, masters and wizards alike," Tylor says. "Talk to someone in the field you trust and have them create a Twitter list of people and publishers that will help you keep up with the latest and greatest when it comes to SEO."
Page Speed:
If you use WordPress, download and install the AMP plugin. This is the bare minimum for getting started with Accelerated Mobile Pages.
Jake Jordan, of Steadfast Creative, says, "As smartphones literally take over as our primary search platform, things have to load quickly. I have seen clients go from a page 1 to a page 4 rank in less than a week because their SEO basics were solid but their page load time was hideous."
There are plenty of good tools to help you test load time, but it's best to go to the source and use Google's developer site.
Responsive-First:
Designing for mobile requires a complete understanding of the user experience and how the user interacts with your website. It's good practice to design with the mobile experience in mind, and then translate that to the desktop.
Stoney G deGeyer of Pole Position Marketing, tells his customers to "focus on user experience."
"Pull open your site on a mobile device and just start using it,"

he says.

"Navigate, fill in forms, order products, click on phone numbers, etc. Give it the full nine yards. Pinpoint any areas where the mobile experience is lacking and get in there and fix it!"
You can easily check to see if your website is responsive by using tools like this, but the easy way to determine responsiveness is to drag your browser window and watch the elements on the page. If they move in a way that you are still able to navigate all elements of the web page, your page is most likely responsive.
Get Local:
Local searches are important because they bring foot traffic, not just web traffic.
"The answer to why mobile first for local is simple: People search

on their phones

when they are ready to buy,"

says Lorraine Ball of Round Peg.
Quality Content Above All Else:
"I've always been a proponent of writing great content and writing content that's relevant to your target audience. If you are writing content that's relevant to your target audience, it's without saying that the content will include keywords and phrases that are both relevant to your company and your industry. This should help to increase search rankings for specific keywords without stuffing keywords or sounding like a robot."

–

Brian Hasenbauer
The Benefits of a Separate Mobile Index
Coming back to the splitting index… this isn't exactly a bad thing. 
It's a little unfair to have the same listings for mobile and desktop, as these are two different ecosystems. So we believe that this split is a welcome change. It means better SERPS for everyone. The reason behind the index separation is to provide mobile users with fresher, more relevant content and a better UX.
Barry Schwartz, of Search Engine Land, suggests that "by having a mobile index, Google can run its ranking algorithm in a different fashion across 'pure' mobile content rather than the current system that extracts data from desktop content to determine mobile rankings."



The Importance of Mobile
The world we live in is becoming increasingly centered around mobiles devices, as demonstrated by the ever-increasing mobile search share which now puts desktop search share in the minority. It makes sense that search engines will want to cater to this growing market by providing faster loading, mobile-optimized pages.