Social media teams should learn how to manage multiple Facebook Pages with Facebook Business Manager because of its ease of use.
With Facebook's management platform, you can set up a efficient system for your business Pages where you can manage all your locations pages through one brand page.
The platform is helpful if you run, say, 100 fast food restaurants all under one brand name.
Creating and managing all those Facebook Pages separately can drive anyone to madness. Here's how to make your life easier:
Set Up Your Main Page
Learning how to manage multiple Facebook pages starts with creating a main, or brand, Page on FBM.
Go to the Menu (the icon with the horizontal lines on the top-left corner of the screen) and click on "Business locations," which is under the "Assets" category.

Image courtesy of Facebook

You will go to another screen where you have to click on the "Get Started" button to begin creating the main Page. This will be the business' "parent" Page.



Each location will have its own Page as well, but they're in the "child" role. This means that anything done on the main Page is reflected on each location Page. More on this later.

Image courtesy of Facebook 


Once you're done setting up the main Page, you can add existing Pages or create new ones for each location. You can also add or edit more locations after the Pages are created by going to the "Business locations" section again and clicking on the "Add Locations" icon.





Please note that Facebook has a naming protocol in place for each location Page created this way. By default, each Page will show "Business Name (City)." However, you can make it more specific to show "Business Name (Address, City)."




You can add Pages manually or upload them in bulk through a CSV template. Businesses that already use tools like Shopify or Magento might have an easier time uploading a template instead of manually creating location Pages.

Those that already have existing Pages can easily integrate them to the new system by choosing the "Migrate an existing page" option on the setup screen.

With the main and location Pages created, you can click on the "Download Locations" button to get a data-filled Excel spreadsheet. You can share this spreadsheet with other members of the team.
Managing the Main and Location Pages
With this new Page system in place, you can now dictate the content for all locations from one central Page. However, you can also make some changes to manage specific features on individual Pages.
Posts
Any posts created and published on the main Page will also appear on the location Pages by default. If you want the posts on a particular location Page to differ from the main Page you will need to go to the "Locations" tab on the main page.
You will then click on "Settings" and then "Locations," which will show you three options for post customizations for each Page:

Always show the posts from the main Page on every location Page.

Show the main Page posts on location Pages if that Page doesn't have their own set of posts (this is the default setting).

Never show any posts from the main Page.
Your choice will affect all Pages, but you can also exclude specific Pages from these changes by altering the settings within the pencil icon. This is located next to the location's name on the same page.
Photos
The profile and cover photos for the main Page is the same on every location Page. However, you can change this by clicking on the camera icons next to each photo on every location Page.
Other Settings
You can also make changes that allow or prevent users from writing on the Page's timeline, sending a message, and posting their Recommendations and reviews.
You can do this by clicking on the Settings option on the top-right corner of the appropriate Page. From there, go to the General section and make the appropriate changes.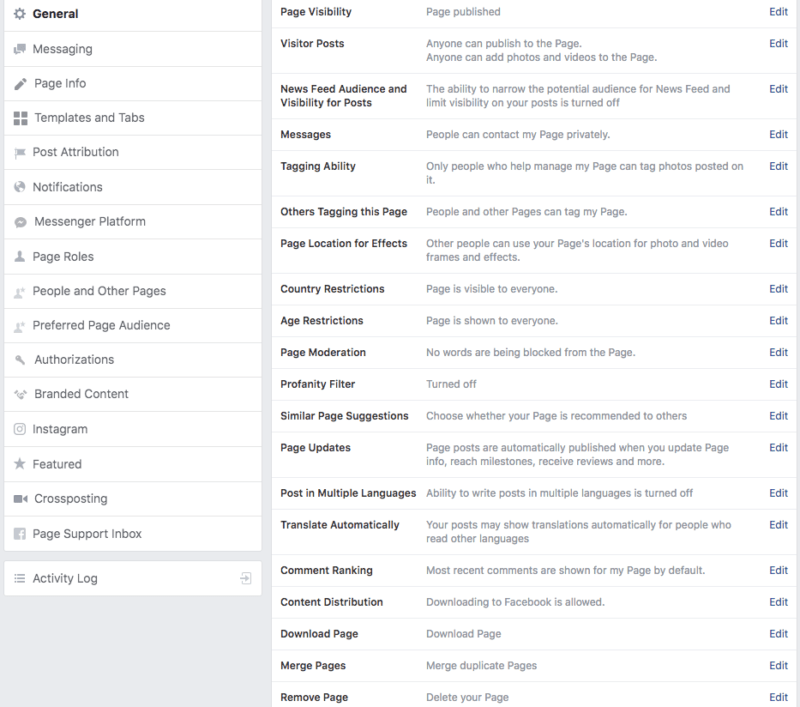 By default, users can also like or check-in on the Page, but as far as we can tell, these features are always on and can't be turned off.
A Better Management System
Formatting location Pages in this manner not only makes it easier to manage multiple locations; it also makes for a more efficient workflow system.
With a few clicks you can make changes on the main Page that affect other Pages. Furthermore, you can also tweak some settings to make changes to individual Pages that cater to specific audiences.
In short, creating a main and individual location Pages makes it easier to manage the business whether your team is made up of one person or several staff members.