See customer feedback from over 100 review sites in one place
Request a demo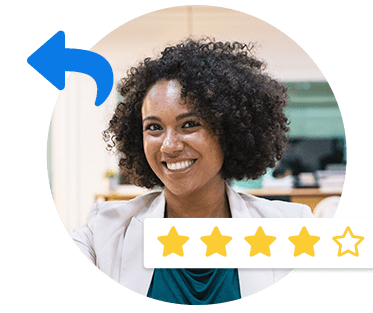 In the last five years, there has been a rise in the number of sites made available to consumers for the central purpose of connecting businesses with pre-qualified service providers.
These sites provide a more interactive and focused environment than what customers are likely to find in more generic consumer review sites such as Google of Facebook.
The HomeAdvisor Trend
The trend toward specialization in tandem with aggressive marketing made way for sites such as Angie's List, and now HomeAdvisor and others that have gained popularity among consumers looking to engage contractors for repairs and remodeling projects with a high price tag, where reliability was a non-negotiable.
In the past, we have explored why contractors just like you stand a better chance of securing quality leads through no-cost sites (e.g Yelp) that offer un-gated access to all Web searchers, than by trying to secure leads from gated sites like Angie's List.
We stand by our recommendation, confident that you will indeed gain ground and exposure on free sites, but today we want you to go one step further.
Let's take a closer look at how a highly marketed, segment-specific site that is free to consumers but not free to you may potentially increase the number and quality of your leads.
Bottom Line: Should I Join?
Before we touch on whether you should join or not, we want to give you some insider info.
HomeAdvisor is by no means the new kid on the block.
HomeAdvisor started in 1999 as ServiceMagic.com and was later acquired by InterActiveCorp, the original parent company for Hotels.com, and owner of a wide array of well-known sites like Match.com, About.com, Grid.com, Tutor.com, DailyBurn.com, The Princeton Review, and others.
Only four years younger than Angie's List, and with more online tenure than Yelp, HomeAdvisor definitely has experience in serving prescreened contractor profiles to customers who prefer a pre-qualified lead.
If your decision to join HomeAdvisor will be purely based on the credibility of the site, then our recommendation is to go for it. But before you sign on the dotted line, let us share with you some of the value-added features that may just make it worth your money.
Dual Path of Engagement
HomeAdvisor allows shoppers to find you using two very distinct paths.
The first and most traditional path mimics the experience a shopper is likely to have on a site like Yelp or Insider Pages. Search by category and have specific contractors listed based on star ratings. The second way HomeAdvisor equips shoppers to connect with businesses is by creating pre-qualified leads with detail-rich requests that allow contractors in the area to bid for the project.
It Pre-Qualifies Your Leads
One of the greatest frustrations for tradesmen and contractors has to deal with a high volume of calls from shoppers who are simply testing the waters, or getting quotes exclusively for reference or as a means to contest their property taxes. HomeAdvisor filters their leads by guiding shoppers through qualification paths that request additional information regarding their project.
Their "Match Me" feature will ask potential customers for project specifics like permitting, initial sketches, need for demolition, as well as pre-qualifiers that let the contractor know if the shopper is ready to hire or simply getting and comparing quotes. A pre-qualified lead allows HomeAdvisor to point the lead to the best suited contractor, and equips the contractor with sufficient background to make a more accurate bid, or to pass on the project if the specs are not a good fit for his or her current schedule.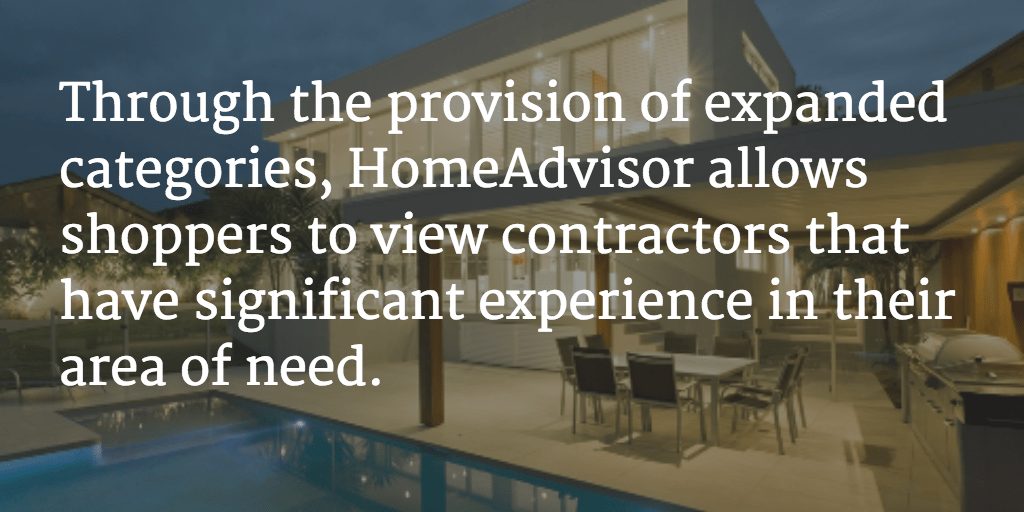 Home Advisor Gives Shoppers Laser-Sharp Categories
Many homeowners are often frustrated when they are unable to pinpoint a contractor with expertise in specific areas.
Through the provision of expanded categories, HomeAdvisor allows shoppers to view contractors that have significant experience in their area of need.
For example, a potential customer looking for a contracting firm able to handle a kitchen remodel would have to follow this path:
Additions & Remodels?
Kitchen Remodel?
Maintain or Change Floor Plan?
Move or Update Cabinets?
Move or Update Appliances?
Update Countertops?
Update Flooring?
Update Sink?
Update Lighting?
Is the Property Historical?
Is This an Insurance Claim?
By the time a pre-qualified lead arrives in the hands of a contractor, he or she will have sufficient information to evaluate the potential of the project and the types of experts needed to complete the task. A pre-qualified lead is a lead that is easier to convert into real business. 
HomeAdvisor Lets You List Credentials, Licenses, and Areas of Expertise
Because most contracting is in direct association with a family's greatest investment – their home – making sure a contractor or remodeler is trustworthy and reliable is a first priority for homeowners.
HomeAdvisor is one of the very few sites that provide active members with specific subcategories that allow you to display credentials, licenses, and areas of expertise.
While you can still post these on other review sites under general descriptions, having a well-designed profile that directs the shopper's eyes to said qualifications can make a significant difference when it comes to conversion.
HomeAdvisor Allows You to Increase Last-Minute Revenue by Listing Your Profile for Emergency Tech Services
If you are in the business of remediation, or if you are set up in such a way that you can help homeowners navigate the complexities of an insurance claim, then this feature will bring a ton of business your way.
HomeAdvisor offers shoppers a specific tab dedicated to vendors able to provide emergency services 24 hours a day.
For a customer, this could be life-saving.
A business having last-minute business-engagement opportunities can provide you with an additional source of revenue to help you boost your overall profitability. 
It Adds Trust by Conducting Background Checks on Business Owners
This is where HomeAdvisor can truly make a difference when it comes to remaining competitive. The review website runs criminal background checks on the owners of a business, giving consumers an additional data point to increase their peace of mind.
Now that we have explored some of the unique features that make HomeAdvisor a viable option for contractors and tradesmen, let's talk money.

HomeAdvisor Is Not Free
In direct contrast to Yelp, HomeAdvisor is not free, nor does it allow you to engage or receive leads at a basic level unless you are a paying member. Before you decide to move forward, you can request a free 30-day trial. Additionally, they can set you up to receive live sample leads. While you may not contact these leads, it equips you with the necessary info to evaluate the value this service can or can't have for your business. 
Claiming of Free Listings
You don't have to pay to claim your business listing on HomeAdvisor, though. It's free to get listed, although of course your ability to engage will be more limited than if you paid to receive leads. Keep in mind that claiming your page confirms that the contact info is correct; it also allows you to add details about your business for HomeAdvisor users to review.
To claim your business listing, visit https://www.homeadvisor.com/directory/ and perform a search using your business name OR phone number.
Prices Vary per Market and Type of Job
This is where it gets tricky. Unless you speak to an account representative and get a quote, there is no way to know the cost per lead for your specific niche. The cost of a lead will vary based on the competitiveness of a market as well as the potential price tab of a job. Commercial leads are always more expensive than residential leads. Keep in mind that a lead is not a guarantee for business; rather, it is a contact that has been prequalified. Leads for mid-price contracting services, such as carpet cleaning, can cost from $20 to $80 for a commercial lead.
Leads Are Sent to More Than One Contractor
Like we mentioned before, leads are sent to multiple contractors. Before you move forward with this type of engagement, we want to encourage you to do your homework, and make sure that you are competitive in terms of quality and pricing when comparing yourself to other listings on HomeAdvisor. If you are confident your offering is competitive, then go ahead and give HomeAdvisor a try.
HomeAdvisor is not for everyone, but we feel it has sufficient strength as a review and marketing platform to be worth considering.
Make it a point to manage and monitor all your reviews, from no-cost as well as paid review sites like HomeAdvisor, to better understand which channels are best suited for your business. To best handle review traffic from multiple sites, consider the benefits of incorporating review monitoring and reputation management software to your online marketing strategy.