See customer feedback from over 100 review sites in one place
Request a demo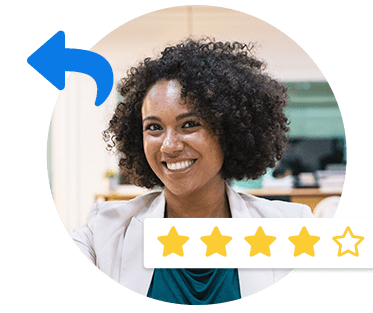 Hundreds of franchisees fail each year, according to the Wall Street Journal.
To avoid being one of these unsuccessful franchises, you must place the customer at the center of your business, deliver the best possible experiences for them, and listen to and act on customer feedback.
Set Up A Review Monitoring System 
Adam Broetje, CEO at Odd Dog Media, says that one of the most direct customer feedback platforms franchises have today is online reviews.
"Each location can be individually reviewed, so (online review sites provide) a great measurement of how individual locations are performing, and what customers like or don't like," he says.
Broetje's team recommends that every franchisee set up a review monitoring system for their location. But it's not just the franchisee that should be monitoring online reviews; even the franchisor should set up a system for listening to customer feedback across all of their locations.
He says, "You will end up with lots of positive feedback about what customers like, with hopefully little feedback about what you can improve."
For a classic example of how franchise brands can successfully tune into online review sites and manage what customers are saying online, read this case study of Hwy 55 Burgers, Shakes, and Fries.
Information Is Key 
Chris Conner, president of Franchise Marketing Systems, says that when companies are starting out, it is all about marketing and sales. 
"The only way you get a franchise to the point where it's sustainable and it can survive and it's (experiencing) scaled growth is by being totally focused on marketing and selling," he says.  
"Information is key to every single decision you make as a business owner, and that is magnified when you're in franchising. Nine times out of 10, franchisees have never done business they bought into. They are totally green and they need every bit of support, coaching, and handholding that can be offered to them."
Conner says you can't just go about franchising without lack of structure. That's something that might work for two or three stores, but once you get to five, six, seven, fifteen, then you need to have structure and a model and process to get the data to make decisions.
"Analyze the data and come back with a good, valuable direction," he says. "Otherwise you're just not going to grow, and that's key for every part of the business, every aspect of franchising."
You'll also like: "Supercharge Your Marketing Content with Online Reviews and Customer Feedback"

A Consistent Business Model
George Elfond, co-founder and CEO of Rallyware, has a high-level approach to the success of franchises. He says that franchises must have a good plan for translating their business model to other franchisees quickly and efficiently.
"This process is important because it maintains brand integrity. It immerses franchisees into an existing company culture, delivers just-in-time training, and helps franchisees achieve strong revenue streams," he says.
By implementing just-in-time on-boarding, training, and engagement programs, franchises are able to build a two-way dialogue with their customers.
These programs also encourage engagement among the franchisees, and they facilitate peer recognition and rewards. Likewise, communication among regional and corporate leaders in the company is important. 
See also: "10 Customer Experience Quotes to Inspire Your Entire Organization"
Elfond says it's crucial to be able to streamline franchise network communication and give regional and corporate management access to analytics that provide actionable insights.