There's never been a more important time to claim your Glassdoor business page and manage your company's employer brand.
There are two reasons why this is the case. First, there's an historic labor shortage – meaning there's never been a more competitive time to hire the right talent. Secondly, job applicants are starting to conduct research for a new career in the same way a consumer looks for a new product, and that involves looking at reviews.
Combine those two factors and it's clear: employers have to do more to stand out for job applicants, and that starts with claiming your Glassdoor business page. Here's how to do it.
Signing Up for a Glassdoor Business Page
1. Go to Glassdoor for Employers
The first step is to visit the Glassdoor for Employers website. Clicking on the green "Sign Up" button will take you to a page where you can fill out a form for a free employer account.
2. Fill out the form
Glassdoor's form asks you to fill out basic information such as your first, last, and company names. You'll also need to put in your job title, the number of open jobs available at your office, a work email address, and a password for the profile.
3. Check the box
You also have to check a box, which confirms that you are a representative of your company's HR, recruiting, marketing, or PR departments.
4. Verify and wait
You'll also have to fill out some additional fields on the following page before the application is sent to Glassdoor's Content and Community team for a final verification. The overall process can take up to a maximum of three business days.
Updating Your Glassdoor Business Page
Once your business page is up and running it's time to fill it with as much information as possible. This means adding company details, images, and locations.
Add the Basic Details
Your Glassdoor business page features a navigation bar on the left side of the screen. Under the Employer Branding tab, you can add and update standard information about the company.
In the Company Details section, you can add the business website, the city location for your headquarters, and the founding year. There are also text fields where you can write about your company's current status, the number of employees, annual revenue, and the sector or industry of focus.
If you have multiple locations, you can add each office's city, address, and zip code in the Company Locations tab. The About Your Company page lets you add a detailed description and mission statement.
Header with profile image dimensions
Having a cover photo and logo image is another important aspect of your profile page. You can add or update both pictures in the Logo & Cover Image section. Cover images must be 5MB or smaller and should have the dimensions of 1440 x 275 pixels.
Header with logo image dimensions
For logos, it's best to have an image that also works in smaller sizes. Glassdoor uses the logo images in smaller dimensions such as 100 x 100, 75 x 75, 50 x 50, and 30 x 30 pixels.


All About the Branding
Part of attracting new talent involves creating a brand image, which is why it's important to use the Branded Content tab to your advantage.
Research shows that 94 percent of job candidates will apply for a job if that company actively manages its brand, and companies with positive employer branding will get twice as many applicants as those with a negative branding image.
It all starts with the Why Work for Us section. Here, you can create five sections such that tells job seekers why they should apply to your company. Example sections include About Us, Success Stories, Our Team, and Our Story.
The Benefits section is just as equally important. Things like a flexible PTO plan, comprehensive healthcare packages, or even regularly scheduled Lunch and Learn sessions can make your company an attractive place to work.
Another way to show off your company's hard-earned work is through the Awards page. You can add information about every garnered accolade, but you can also feature the most prized awards in the Featured section.
The Photos and Social Media & Video pages are where you add more visual elements to your page. You can add your photos and captions, but Glassdoor users can also add their own photo of your company or employees in the Community Photos section.
In the Social Media page, you can add links to your many feeds on platforms such as Facebook, Twitter, and YouTube. You can also set a featured video as well as preferred feed from the social media platform of your choice in the Social Media panel.
Even though most of the content on your page is evergreen, you can keep applicants and employees up to date in the Company Updates section. In addition to text, you can add multimedia elements to each update. Keep in mind that each post has a limit of 1,100 characters.
Use Your Glassdoor Business Page to Monitor and Respond to Reviews
The main attraction of Glassdoor is the reviews section. Employees can leave valuable feedback about their current or previous employer, which in turn can be used by the company to improve operations or even the interview process.
What's even more important as the employer is responding to feedback. According to a study, 48 percent of employees agree that acting on provided feedback will reduce turnover. Moreover, 92 percent of people believe that negative feedback can improve performance in the workplace.
In your dashboard's Review Management tab you can see the full list of submitted employee reviews. In addition to feedback indicators such as overall Recommendation, Outlook, and Approval of the CEO, users can also submit a detailed review as part of the Pros, Cons, and Advice to Management sections.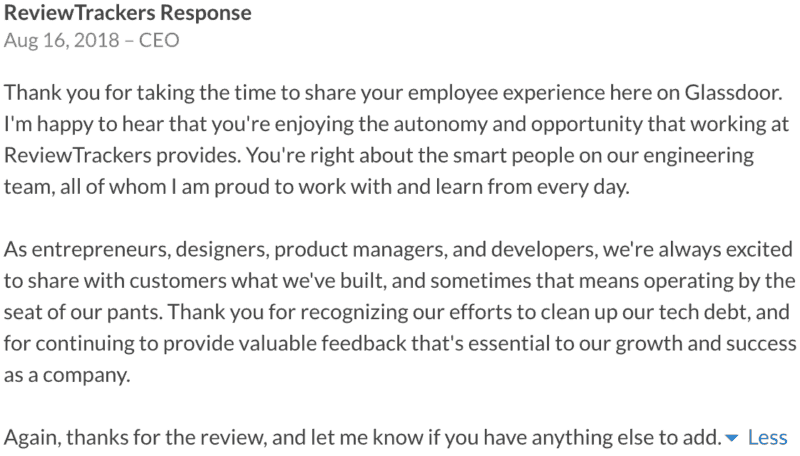 Users can also submit Interview Reviews that tell other applicants about the process from the application and interview to information about the questions posed by recruiters and decision-makers.
Employers can respond to both review types from this dashboard. Before responding make sure you follow best practices so that you don't tarnish your online reputation.
The reviews tab is also a great way to get more reviews. The Request More Reviews section allows you to send a request to multiple email accounts. You can also write a subject and designate the review type requested before writing a short message.
For more on managing employee reviews, you can check out our handy guide here.
Posting Jobs to Your Glassdoor Business Page
With enough positive Glassdoor reviews and branding, you can convince applicants to apply for a position at your company.
Job postings can be done individually or in job slots package of 3 or 10 openings. Individual openings are posted for free for 30 days while Job Slots have a free trial period of seven days. In both cases, you'll need to pay a subscription cost to keep the postings visible on Glassdoor.
The jobs section on your dashboard also gives you insight on other aspects of job postings such as current applicants and the analytical reports of a listing over custom periods of time.
Job postings aren't the only way Glassdoor makes money. You can put in a larger investment for an Enhanced Profile or advertising for a specific job opening or general awareness. Details on a more specific price range for each plan are revealed when you talk to the Glassdoor sales team.
How to be a Power User with Glassdoor's Employee Feedback
Similar to business listings, job postings aren't restricted to Glassdoor. If you're like other companies, you're putting those same positions on other job sites like Indeed, which also allows users to post reviews of your company.
Tracking and responding to feedback on these two sites can be difficult at times, which is why you should look at review management software like ReviewTrackers. The platform allows you to respond and track employee reviews from a single dashboard, which saves you valuable time that can be used to find better recruits or improving your employee branding.