Hotel franchise Choice Hotels International, Inc. is going the extra mile to leverage online reviews generated by guests – and to ensure that these reviews come with an added layer of authenticity.
Recently, the company announced the launch of a new online system – Verified Reviews – designed to enable real guests to enter their booking confirmation numbers in order to write reviews of and rate any of its 6,300-plus hotels (totaling over 500,000 rooms).
The system welcomes hotel ratings and reviews if the stay was completed by guests within the last 180 days. It also features a five-star rating system, which is based on what the company calls Overall Experience scores.
"Research indicates that booking decisions for 81 percent of consumers is influenced by comments posted on review websites," said Robert McDowell, senior vice president, global distribution and loyalty for the company. "Choice Hotels has launched this new system in order to ensure that its valued customers are provided the most accurate information possible."
Choice Hotels owns the brands Comfort Inn, Comfort Suites, Quality Inn, Sleep Inn, Clarion, Cambria Suites, Mainstay Suites, Suburban Extended Stay, Econo Lodge, Rodeway Inn, and Ascend Collection. The move to launch a system for verified online reviews mirrors what the InterContinental Hotels Group did just a little over a year ago, when it launched its Guest Reviews and Ratings system for all its hotel brands worldwide.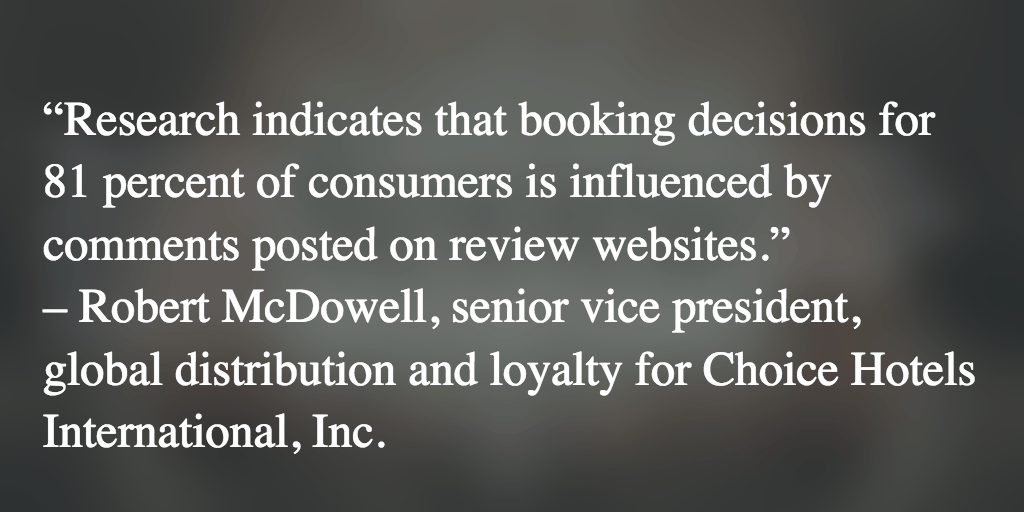 According to the latest research, reviews play a major role in travelers' decisions when booking a hotel. In fact, online review sites now rank ahead of personal recommendations and guidebooks as a travel planning resource. Moreover, 53 percent of consumers won't even book a hotel that doesn't have any online reviews.
Are you a hotel or hospitality exec looking to maximize the word-of-mouth potential of online hotel reviews and ratings posted by your guests? We encourage you to sign up for a free trial of ReviewTrackers, a hotel review monitoring and online reputation management tool designed to meet the needs of businesses in the hotel and travel industry.