Download 43 free review response templates for negative and positive reviews
Get the templates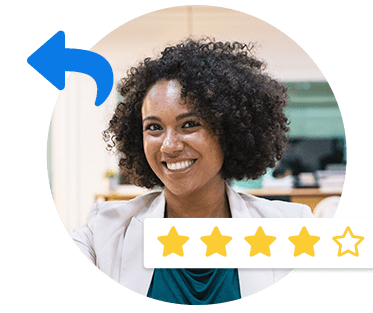 Reviews hosted by third-party sites are seldom used to acquire an in-depth understanding of what drives customers to your business and what drives them away.
Having and using this knowledge to shape and direct the way you do business is a highly effective way to optimize your offering and gain traction by delivering products and services in ways that fix problems and meet needs efficiently, affordably, and accurately.
Your business exists to deliver goods or services that meet pre-defined wants and needs. At the very core, a business succeeds when it delivers the goods or services in full alignment to customers' expectations.
There is no better or more accurate tool to fully understand what your customers want than through analysis of online customer reviews.
Reviews can give you accurate insights on how you are measuring up to the expectations of your customers in the two most important facets of business: product delivery and service delivery. Even highly experienced customer retention strategists and reputation managers would benefit from learning best practices on how to parse reviews to differentiate between product and service issues, and how to tackle each area quickly and effectively.
Delivering a Customer Experience that Rocks
Before we go further on the topic of differentiating product and service deficiencies, we want to touch on a very important point. In a variety of industries, your product is your service! Having this awareness will better equip you to deal with customer concerns and find viable solutions to deliver customer experiences that rock.
Businesses where the product is the service must take a holistic approach to brand improvement. A great example of segments where the product is the service includes repair trades and cleaning services. If your business is in a service-based segment, then you must focus the bulk of your energy and resources on shaping your people and creating a work culture that seeks to exceed customer expectations.
Analyzing online reviews will allow you to get a full understanding of what your customers expect from your company, thus equipping you to shape your offering to be a perfect match. Pay particular attention to trends such as punctuality, responsiveness, and accuracy in completing the task.
When you identify negative trends, be swift in addressing the issue with everyone in the company, and make sure the standard of service is clearly spelled out as a core element of your standard operational procedures and employee guidelines.
How to Know If You Are Looking at an Anomaly or a Trend
When you are tasked with managing the quality and reputation of a business, it is easy to cross the line between responsive and reactive.
As a liaison for your brand or business, you must take care of customer concerns and online reviews with a sense of urgency and a commitment to give the reviewer a satisfactory outcome.
Having said that, responsiveness in taking care of a customer should not work as a trigger for reactive management. If you receive an escalation, don't move forward with implementing operational or personnel solutions without first understanding if you are dealing with a one-off instance or a trend. There is no need to fix something that is not broken.
For an issue to be a trend, you must see multiple instances with similar narratives pointing to the same problems across a variety of review sites. Alternatively, if you have operational awareness of an issue and the reviews appear to confirm your suspicions, then you can safely assume you are dealing with a trend.
Tackling trends can do wonders for both products and services, but keep in mind that all trends start with a single review. Don't discount anomalies as false. Look into the issue and see if you can identify a problem and fix it in a more informal way before it repeats itself, potentially affecting other customers and turning into a trend that can blemish your online reputation for years to come. 
Knowing How to Parse Between Product and Marketing
One of the most common errors we have identified across all sectors relates to the erroneous assessment of a product through the lens of a poor marketing pitch.
Oftentimes, your offering is just what it was meant to be; however, the way you are framing it in your marketing material is not aligned with reality. Before you go and fix your product, take a closer look at what you are offering, the value it represents, and the way you are describing it in your online and offline collateral.
Something as simple as a revision in the actual descriptions of your product can result in significant improvement as far as customer satisfaction. Don't discount the possibility of a poor pitch that inaccurately describes what your brand can truly deliver. 
Why Tackling People Issues is a Number 1 Priority
Many studies point to the fact that negative reviews on popular review sites are often the direct result of a poor customer service interaction.
The best product in the world can still garner a negative review if those tasked with selling it or servicing it don't have a commitment toward delivering a superior customer experience.
Don't let poor customer service be your downfall. Work on perfecting the customer experience, and always be ready to provide rapid resolution to escalations before they go viral, or customers become so frustrated that they will no longer be interested in giving your business a second chance. 
Shape Your Product Based on Customers' Needs
When trying to shape your business to meet the needs of your customers, you need to learn to read between the lines. Quite often, online reviews don't speak about the things that you offer; instead, they highlight the things that you don't.
Learn to take the time to identify the product your customers are asking for, and use this information to revise your product line to best match the needs of your customers. Your reviewers are your best source of data when it comes to creating an offering that will be in high and constant demand.
In order to conduct a full analysis of your reviews to identify issues related to products or services, it is essential to have a large sample that includes reviews across multiple sites. The sample must also take into account chronology and include reviews from a period of time that is statistically significant.