Download 43 free review response templates for negative and positive reviews
Get the templates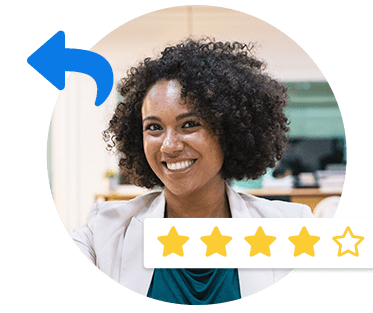 Without a customer experience feedback strategy, even companies and industries that stand out for product innovation are doomed for failure. Meanwhile, those who fully rely on price-based strategy compromise the profitability that's essential for long-term survival and growth.
Delivering consistently superior customer experiences – along with generating positive customer feedback – is therefore the strongest possible differentiator for businesses whose objective is incremental growth, reduced customer acquisition spend, and increased margins.
While every industry has nuances in the way business is conducted, there are key principles that are valid across all business organizations, and they can serve as a foundation for a successful customer feedback and experience strategy. Likewise, businesses can learn from well-intentioned but failed initiatives that have proven to negatively impact the customer lifecycle, thus increasing churn rate and reducing the potential for expansion.
Let's take a look at what industry leaders are doing to ensure that their strategy is value-driven and consistent across all business channels and all the stages of customer relations.
Transform the Organizational Culture 
To change the organizational direction of your business, you must first change the hearts and minds of your people. Without their buy-in, the central goals of a customer experience and feedback strategy are lost to issues like indifference, unwillingness to utilize empowerment, or abuse of empowerment in the context of remedy that fails to take into account the expenses associated with unsustainable compensatory practices, resulting in customer experiences that fail to increase retention and encourage improvements in Net Promoter scores.
Strong leaders are always on the lookout for methodologies that focus on getting things right on the first try. Grassroots, cultural changes to the way business is done and a commitment to reward those who embrace a customer-centric culture creates a strong foundation for a sound strategy that results in positive customer feedback.
Address Customers' Voiced Needs
Businesses should not deprioritize the importance of customer-centric product development. Many business organizations fail to include customer feedback (such as in online reviews) during the creative cycle, assuming that their internal experts have a better understanding of what is truly needed by the target segment.
A sound strategy takes advantage of data mining and business intelligence, and makes shaping products and services to the needs of customers a top priority. Innovations are, at their very root, products that meet the gap between the existing offering and unmet customer needs and wants.
Gather Data-Rich Consumer Profiles
The strategic changes you can make are only as good as the data that supports the changes. Having a data-rich customer feedback and management software that is frequently updated and implemented across all stages of the customer lifecycle can give your enterprise a strategic advantage, and equip you with specifics about customer behaviors that can inform the decision-making process when it comes to revising the direction of the business strategy.
Keep in mind that your software is only as good as the data every department captures about the customer. It is not how much data you collect; you must also make sure your data is relevant, accurate, and useful. 
Fix Customer Problems
Don't wait for individual customer concerns to become trends or to explode into a social or viral situation. Also, keep a close eye out for negative trends, and find ways to resolve issues expediently.
Failing to address negative customer feedback and sweeping them under the carpet will frequently come back to bite you, placing the whole business organization in a highly undesirable and costly conundrum. Effective customer feedback strategies thrive when individuals are empowered to resolve issues quickly, and educated to find creative solutions that protect the brand while taking into account the bottom line.
Work on the First Mile before Tackling the Extra One
Don't waste corporate energy and resources on creating a culture of delight when you have not yet tackled delivery.
A functional strategy thrives when business leaders implement solutions designed to help everyone at every level get the basics of the customer experience just right. Getting the basics right begins when on-boarding new team members and continues indefinitely, ensuring there is clarity on what it means to deliver the basics.
Having clear policies and procedures and working on improved staff retention can significantly impact your organization's ability to get the basics right, and set the stage for you to be prepared to go the extra mile once you have mastered the art of timely and complete product and service delivery.
Don't Compromise Other Organizational Interests
One of the most common and destructive patterns taking place in organizations that have newly and haphazardly implemented their customer strategies has to do with derailing from core objectives, such as overall profitability, cost control, and sustainable growth.
In such organizations, there is a poor understanding of the overall mission, and oftentimes front-line team members as well as middle managers fail to focus on superior and accurate delivery every time.
When you have a pattern of losses of revenue and customer loyalty, leaders must go back to the drawing board and provide everyone up and downstream with a clear path of action that provides boundaries and fosters accountability and ownership.
Don't Forget Your Internal Customers
The truth is, the quality of a customer's experience and feedback is directly dependent on the caliber and training of every single team member, which affects every stage of the customer's lifecycle.
The best way to promote a culture that aims to deliver excellence in customer experience is by fostering a work environment that is conducive to retention, provides clear direction, and rewards performance.
When possible, those tasked with leading a customer experience strategy should first evaluate the readiness of the team to embrace customer-centric policies and be accountable for all the touchpoints associated with each transaction.
Don't Delay
If you have already implemented a customer feedback and experience strategy, you are probably aware of the negative impact of poorly managed escalations. The majority of customers that leave a business to support the competitors do so as a result of an escalation gone wrong.
Focus on clearly delineating SOPs that allow for fast resolution of customer concerns and the ability to make on-the-spot decisions or have a readily available escalation point. Don't let your organization be the victim of a common but dangerous mistake that has severely impacted multiple brands, large and small. 
Set Clear Goals and Standards
While empowerment is indispensable for a functional strategy, business leaders must be cognizant of the importance of having clear boundaries by which team members are able to exercise their empowerment.
Providing clarity will improve customer interactions and provide those tasked with capturing data and analytics with usable metrics with which to measure the effectiveness of all the processes associated with the strategy currently in place.
A customer feedback and experience strategy is not exclusive to enterprise-level organizations. Even small businesses can benefit from having one in place, with basic objectives such as increased retention and improved Net Promoter scores. As the business grows, this will serve as a foundation for a more dimensional and rich strategy that can be scaled up and down to meet the specific needs of the organization.