Small and large businesses alike are embracing the importance of managing online reviews and customer feedback as a key element of their customer experience and service strategy.
After all, customers want and need to be acknowledged individually and personally, and this holds true regardless of whether they leave positive or negative feedback.
Managing online reviews and customer feedback
While management of reviews involves various kinds of practices and techniques — from monitoring all relevant review sites and calculating online ratings to conducting customer feedback surveys and analyzing text and sentiment — perhaps the most demonstrative way in which businesses handle reviews is by responding to them.
Not only does responding to reviews help protect the business reputation of a company; it also drives customer engagement levels and serves as one of the most effective ways to address customers' issues and experiences.
The reach of a company's review responses also extends to include the wider audience of potential customers that are using online review sites to find great businesses.
As customers increasingly expect you to respond at the right place and the right time to their feedback, your organization must commit to delivering individualized interactions and review responses that make them feel that you understand them.
Here are five key practices that will make a difference in the quality, impact, and effectiveness of your responses to online reviews and customer feedback.
Ensure personalization
When your business receives a large quantity of reviews, it's tempting to want to see only the big picture and not place the proper or appropriate value on each individual customer relationship.
You can't fall into the habit of indifference. As much as possible, personalize your response. Sign off with your name. Address the review-writer by his or her name, along with the proper salutation. Say thank you and show that your business appreciates the time the customer took to share feedback.
Personalizing your response to online reviews also means carefully reading what the customer has to say — good or bad — and tackling the issues that they raise.
Are they complaining about the slow Wi-Fi in your location? Say sorry and assure them you're doing something about Internet connection speed. Are the customers saying that no one cleared their table for almost an hour? Apologize and admit that this should not have happened.
Provide relevant clarifications
Review responses also give business owners the opportunity to provide clarification on issues that may lead to a less-than-perfect online review.
When a reviewer raises a concern about a product or service, and you are confident your delivery was as intended but misunderstood at the receiving end, take the opportunity to clarify. Don't get worked up about it; emotional knee-jerk reactions to a negative comment don't often end well.
As you clarify the issue, make sure that your marketing collaterals, such as brochures, menus, online content, and other forms of advertisements, are specific, clear, and concise, and you are in no way over-promising and under-delivering.
Maintain the reviewers' priorities
Engaging with customers based on their priority level is a great way to build credibility, make your reviewer feel acknowledged, and provide other readers with a sense of flow on how issues are addressed.
Maintaining the same priorities as your reviewer in your review response simply means that you will tackle concerns, compliments, or complaints in the same order that they did. Also, try to incorporate words or phrases similar to the ones used by your reviewer in order to create a sense of affinity and empathy.
Meet brand standards
Brand standards may refer to the level of formality with which you respond to reviews and communicate with customers, or to the use of certain words when describing your company's products, services, and even company history.
Not only do these standards help set you apart from the competition; they also help foster a customer experience culture focused on delivery.
Make each response an open invitation
Having a thriving business operation is all about building positive relationships with your customers. Your review responses should always leave the door open for an ongoing relationship that results in additional business.
If the customer's initial experience wasn't so pleasant, let them know that it's not normally how you do things, and that their experience will be much better next time.
Even the most negative review can be turned into an opportunity to win critics over and prompt them to give your business a second chance.
Based on these five key practices, let's break down this recent review of Hard Rock Cafe in Manchester on TripAdvisor, followed by management response to the review.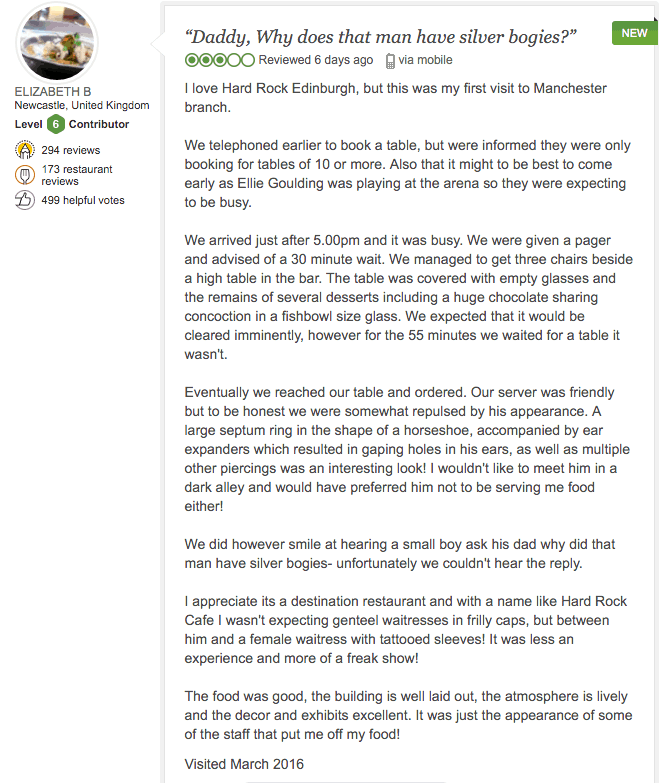 Eventually we reached our table and ordered. Our server was friendly but to be honest we were somewhat repulsed by his appearance. A large septum ring in the shape of a horseshoe, accompanied by ear expanders which resulted in gaping holes in his ears, as well as multiple other piercings was an interesting look! I wouldn't like to meet him in a dark alley and would have preferred him not to be serving me food either! We did however smile at hearing a small boy ask his dad why did that man have silver bogies- unfortunately we couldn't hear the reply. I appreciate it's a destination restaurant and with a name like Hard Rock Cafe I wasn't expecting genteel waitresses in frilly caps, but between him and a female waitress with tattooed sleeves! It was less an experience and more of a freak show! The food was good, the building is well laid out, the atmosphere is lively and the decor and exhibits excellent. It was just the appearance of some of the staff that put me off my food!
Following best practices in online review and customer feedback management, the manager of Hard Rock Cafe in Manchester came up with this excellent response.
Dear Elizabeth,

Thank you for your review, I'm sorry that you waited longer than expected and that the table in the bar area was left uncleared, it should not have happened. It's such a shame you were quite negative about your server's appearance, since the first cafe opened in London back in 1971 one of our values has been "Love All – Serve All" – which means no matter who you are, where you from, what you look like, what your backgound etc. you are welcome at the Hard Rock Cafe. We can hardly adopt such a value without treating our staff in the same way, can we? Your server has been with us for almost 15 years and is passionate about the brand and offering a great experince, it's sad you couldn't look past his appearance and see him for the genuine nice guy that he is. There are hundreds of Hard Rockers all over the world with tattoos and pericings living the same values and delivering a great experince too, hopefully if you get the chance to meet any of them you might remember that they are human beings, just like you…..

Take Time To Be Kind

Ben